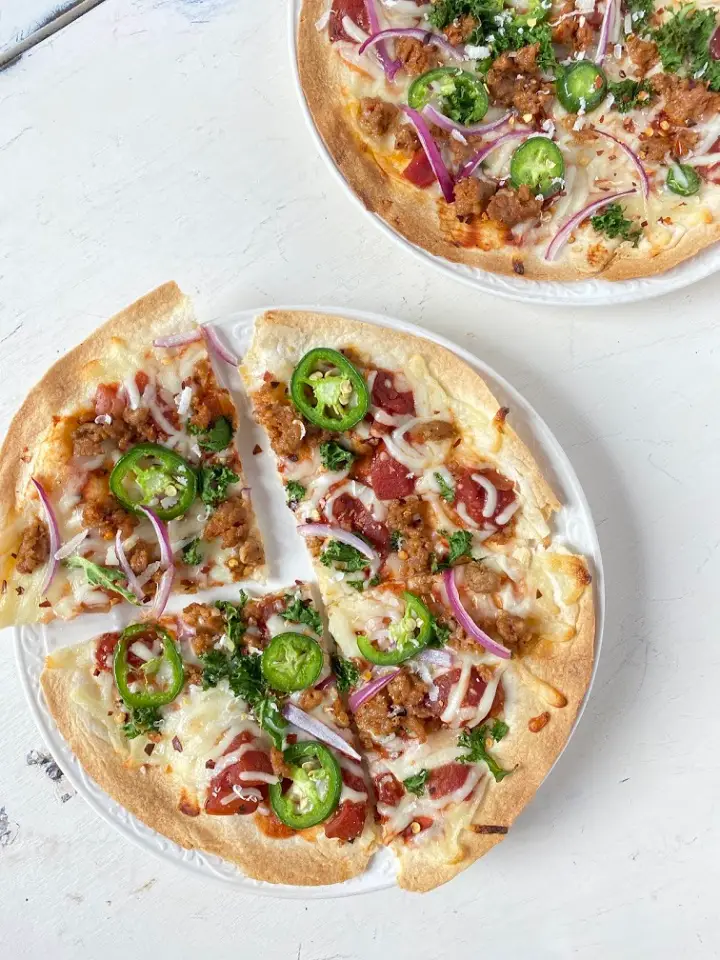 This Italian sausage and kale pizza on a crispy tortilla is the easiest dinner you'll make all week. It's budget friendly, takes only 10 minutes in the oven, and is healthy-ish. It's customizable and ultra flavorful, too!
It's part of the first ever 5×5 meal here at No Waste Nutrition. Five key, seasonal ingredients used to created five or more meals and snacks to help reduce food waste, save money, and eat better.
Since I've began cheap, healthy meal prep in our household, we've shaved hundreds off our monthly grocery budget.
Bonus- these meal ideas require very little expertise in the kitchen. Eating well should not be super complicated, nor mean forcing down bland ingredients.
This 5×5 meal plan features kale, Italian sausage, tortillas, apples, and garbanzo beans. It's the perfect mix for several simple and satisfying cool weather meals.
See below for a few notes if you're planning ahead.
How to Prep Sausage and Kale Pizza
Making pizza is just one simple way to use up random ingredients sitting in your fridge and pantry. This recipe uses three of the 5×5 meal plan ingredients– kale, Italian sausage, and tortillas– along with a few other pantry staples:
mozzarella cheese
marinara sauce (my favorite brand is Muir Glen)
red onion
jalapeños
Kale
Kale is easy to prep. Just tear the leaves from the stems and chop to preferred size. Save the stems for using later in a soup, stir fry, or frittata. A few more notes on kale:
There are several types of kale, which are all in season during cooler temps. Their peak season is autumn through February, which means prices are lowest during these months.
Kale is versatile! It's perfect for soups, stews, stir fry, and pairs well with sausage. But my favorite combo is definitely this pizza.
Raw kale can be bitter. For salads, massage the kale with your hands for 2-3 minutes to help the fibers break down.
Italian Sausage
Italian sausage should be cooked ahead of time for best results in this recipe. I like to cook a bigger batch and then use it in different recipes throughout the week.
You can either leave the casing on– the outer coating that holds the sausage together, or remove it (which I prefer). Cook it in a skillet over medium heat until browned through. Make sure and crumble it with a wooden spoon as it's cooking so there aren't any large chunks.
Store it in an airtight container for up to 4 days.
How to Make Tortilla Pizza
Tortillas actually make a perfect base for sausage and kale pizza. It provides a thin and crispy crust without a ton of extra carbs.
It doesn't get easier. Some suggest to place the tortilla on a baking pan, baking sheet or pizza stone, but it works just as well if directly placed on the oven rack.
The key is to make sure it doesn't overcook. Usually 8-10 minutes in the oven at 400 degrees F is perfect.
Customize It
Use your tortilla of choice. I used regular flour, but gluten free, whole wheat, or homemade tortillas work just as well.
I added jalapeños and red onion for extra flavor, but you can customize this recipe with whatever you have on hand. If you prefer less spice, use a milder flavored sausage or omit the fresh jalapeños completely.
Other flavor combos that work well for a crispy tortilla pizza:
bacon and mushrooms
pineapple and prosciutto
goat cheese and caramelized onion
spinach and garlic
buffalo chicken and blue cheese
Storage Notes
You can prep these ahead of time and store in the fridge for up to four days in an airtight container. These are great for making in larger batches and storing in the freezer to cook later as well.
Luckily, freezing doesn't impact baking temperature or cook times.
Make this Recipe Even Lower Waste
These recipes are designed to help you waste less food each week by incorporating ingredients into multiple recipes. If you're aiming to reduce plastic waste in your home, take it a few steps further.
Below are a few tips to make this recipe even lower waste throughout the entire process.
Don't worry if you're not ready to make the leap away from plastic yet. It's definitely not as convenient and often takes extra time and planning to avoid. Start slowly and realize every little change makes a difference!
Skip produce bags at the grocery store. Use a reusable one instead or allow certain veggies to go naked in the cart. Onions and jalapeños are perfectly okay naked. Just remember to wash them before use if needed.
Ask the grocery attendants to weigh out cheese and sausage and take them in your own reusable container.
Make your own tortillas or shop a local company. It's easier to bring your own container and buy as many tortillas as you'll need.
Print
Simple Sausage and Kale Pizza on a Crispy Tortilla
Italian sausage and kale combine atop a crispy tortilla to make a super easy and delicious weeknight dinner.
Author:
Prep Time:

10 minutes

Cook Time:

10 minutes

Total Time:

20 minutes

Yield:

1

pizza

1

x
Ingredients
1

6 in flour tortilla(s)

1/4 cup

marinara or pizza sauce

1/2 cup

mozzarella cheese, shredded

1/4 cup

kale, chopped

1/4 cup

spicy Italian sausage, cooked

1/4

jalapeno, sliced (seeds removed for less spice)

1/4 cup

red onion, sliced
dash of red pepper flakes and shredded parmesan cheese to taste
Instructions
1. Preheat oven to 400F.
2.  Lightly oil tortillas with olive oil.
3. Spread marinara or pizza sauce evenly on tortillas. Leave a half inch space around edges.
4.  Sprinkle mozzarella cheese on tortillas.
5. Add toppings as desired.
6. Bake for 10 minutes or cheese is bubble and crust turns golden brown.
Nutrition
Serving Size:

1

Calories:

401

Sugar:

6 grams

Fat:

20 grams

Carbohydrates:

24 grams

Protein:

23 grams