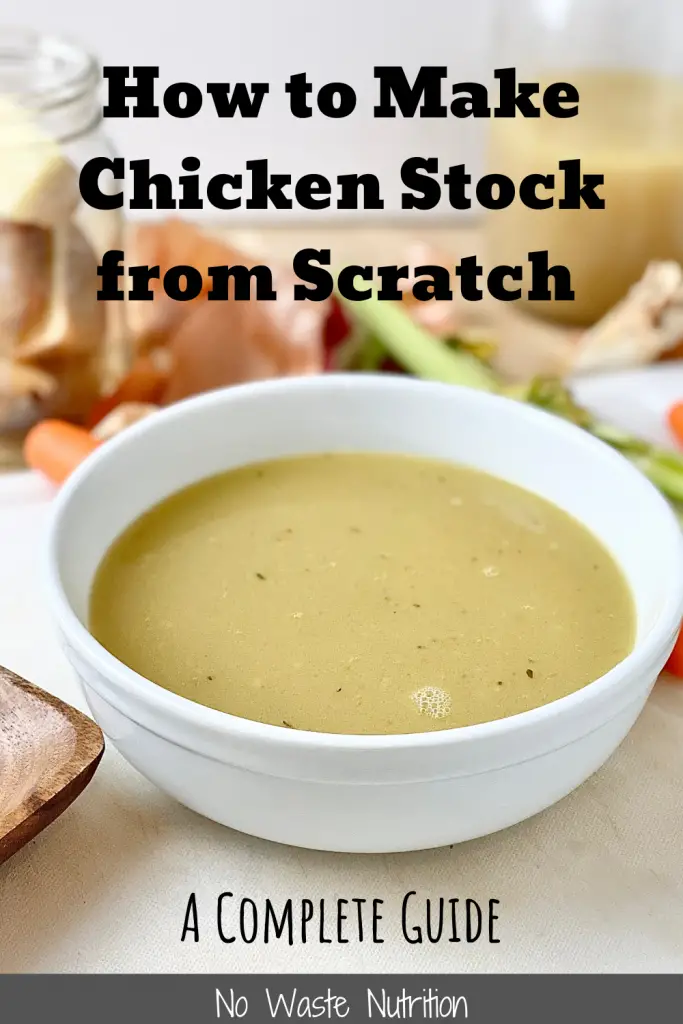 Wondering how to make chicken stock from scratch? Look no further!
Making your own chicken stock from food scraps is one of the simplest ways to cut back on food waste at home. Zero packaging waste to recycle or discard is a major added bonus. It's not only healthier for the planet, it's healthier for us too. 
Your bank account with thank you as well. The cost savings really add up over time, especially throughout the winter when soups, stews, and chili are frequently on the menu.
Store bought chicken stock can range anywhere from $2.50 to over $10 for a 32 ounce box. Beyond winter staples, chicken stock gives added flavor to rice, lentils, quinoa, polenta, and other grains during the cooking process. 
What's the difference between chicken stock and chicken broth?
Chicken Stock
First of all, chicken stock and chicken broth can be used interchangeably in most recipes. The major differences are in how they're each prepared, the textures, and nutritional content.
Chicken stock is primarily made with chicken bones combined with veggie scraps and herbs. The stock is simmered for a longer amount of time, usually four to six hours or more.
This extra cook time releases collagen and amino acids from the bones, which gives the stock a gelatinous texture when it cools. It's exactly like Jello.
Pro tip: Add a teaspoon of apple cider vinegar if you're short on time.  The vinegar helps draw out nutrients and collagen from the bones quicker, and it doesn't impact taste at all.
Chicken Broth
On the other hand, chicken broth is prepared using mostly chicken meat and some bones, along with herbs and veggies. It's simmered for about an hour, which results in a soupier texture.
Is Chicken Stock and Chicken Bone Broth the same thing?
Short answer–yes.
Long answer– yes. Bone broth (AKA chicken stock) has been around for thousands of years. But it reemerged as a wellness trend several years ago, with the rise of functional medicine.
Health food stores and even 'broth bars' now sell cups of bone broth at extravagant costs. Like up to $10 a cup. Who wants to pay that much when it can easily be made at home for basically free with items we'd otherwise throw out.
A Quick History of Bone Broth
According to food historians, bone broth was known as 'restaurer' throughout the Middle Ages. Translated, it basically means broth that 'restores.'
The very first documented restaurant (which opened in Paris circa 1765) served this famous 'restaurer.' It was more of a tavern actually, set up near what's now The Louvre.
The shop owner sold bone broth as a restorative and comforting drink for exhausted and fatigued travelers. Hence the name 'restaurant.'
Nutritional Benefits of Chicken Stock
Chicken stock's extended cook time releases extra nutrients. Compared with chicken broth, chicken stock (or bone broth) is higher in:
fat
protein
collagen
vitamins (B2 B3, B6, C)
minerals (calcium, iron, magnesium, zinc)
Why Making Chicken Stock from Scratch is Better
No preservatives
Canned stocks and broth have extra sodium and other preservatives to extend shelf life. Regular broth can have upwards of 500 mg of sodium per 1 cup serving, which is about ⅓ of the max recommendation for an entire day. That's a big no-no for anyone with elevated blood pressure or family history of heart disease. 

More control over flavor
Store bought broths just can't compete with the homemade version in terms of flavor and freshness. Not even close.  You'll never go back to the watered down canned or boxed version once you start making your own. Having control over the ingredients means you can create any unique flavor you like. 
Less decision fatigue
There are hundreds of chicken stock and broth choices at a typical grocery store. Choosing between too many brands and varieties takes up precious grocery shopping minutes. Canned, boxed, bouillon cubes, pastes and powders are all vying for your food budget dollars. It doesn't' have to be that difficult. 
No Waste
Who doesn't love a zero waste recipe! Bones aren't compostable (at least they aren't if you're composting at home), so this is a great way to put otherwise waste to use.
After the chicken stock is finished, I save the bones to make zero waste dog treats. When the collagen is drawn out, the bones are pliable enough to process in a high powered food processor– like a Nutribullet or Ninja.
Save Money
Again, this is a no brainer. Making chicken stock at home can easily save several dollars.
How to Make Chicken Stock from Scratch
Even the most amature home cook can easily prepare chicken stock from scratch.  All you need are leftover chicken bones, a few veggie scraps, and herbs to add depth and flavor to the broth.  Simmer on low for about an hour, strain, and then store in containers in the fridge or freezer until needed. 
We love to purchase whole chickens, break them down for various recipes, and then use the carcass and giblets (innards that are usually found stored within the cavity in a baggie) to make 4-5 cups of chicken stock at a time.
A rotisserie chicken also provides the perfect amount of bones for a batch of broth. Love eating take out chicken wings? Save those for stock as well! 
Best Vegetable Scraps for Chicken Stock
There's really no wrong or right list here.  It's best to prepare chicken stock with flavors you enjoy. 
We recommend keeping a veggie scrap container in the freezer just for broth recipes. Add vegetable end pieces from other recipes (think onion peels, carrot tops, and celery leaves), and any produce on the brink of spoiling. 
Just one to two cups of veggie scraps are enough to create a robust chicken stock. 
Best vegetables for homemade chicken stock:
Yellow onion
Green onion
Carrots and carrot tops
Celery and celery leaves
Spinach
Kale
Zucchini
Squash
Cauliflower

Best herbs for chicken stock
Rosemary (dried or fresh)
Thyme (dried or fresh)
Bay leaf
Parsley

Veggie Scraps to avoid for homemade chicken stock:
The following vegetables have very distinct and pungent flavors that could transfer over into the stock.
How to Store Chicken Stock
Mason jars are my preferred storage method. Chicken stock and chicken broth can both last in the refrigerator for up to 4-5 days.
If it's going straight into the freezer, leave about 1/3 of the jar empty to allow for expansion. It's better to have too much room, than not enough and a broken jar.
Smaller, leftover portions can be frozen in an ice cube tray. Once frozen, transfer to a mason jar for individual use as needed.
Print
How to Make Chicken Stock from Scratch – A Complete Guide
Use this simple and delicious, zero waste chicken stock recipe for soups, stews, chili, and more!
Author:
Prep Time:

5 minutes

Cook Time:

at least 3 hours

Total Time:

185 minutes

Yield:

6

–

8

cups

1

x
Ingredients
Approximately 5 cups leftover bones (from whole carcass or rotisserie chicken)
2 cups vegetable scraps of choice
10 cups water (or enough to cover the bones and veggies by one inch)
1 Tablespoon chopped, dried herbs (rosemary, thyme, etc.)
2 dried bay leaves
1 teaspoon apple cider vinegar
1 teaspoon salt
freshly ground black pepper to taste
Instructions
1. Combine bone and vegetable scraps in a large soup pot.
2. Add water and herbs and seasonings as desired.
3. Pour in 1 teaspoon apple cider vinegar.
4. Heat to boiling, then reduce heat to low.
5. Simmer on low for at least 3 hours. The longer it cooks, the more collagen it will release. *
6. Let cool before draining.
7. Place strainer over a large bowl and strain stock out.
8. Transfer stock to jars or other container for storage. Leave 1/3 jar empty to allow for freezer expansion.
Notes
* Chicken stock can be cooked for up to 12 hours or more. The longer it cooks,  the more gelatin like it will be when cooled. To reduce fat and calories, skim off the layer of fat that floats to the top of stock using a spoon.
Looking for more zero waste recipes? Try these: