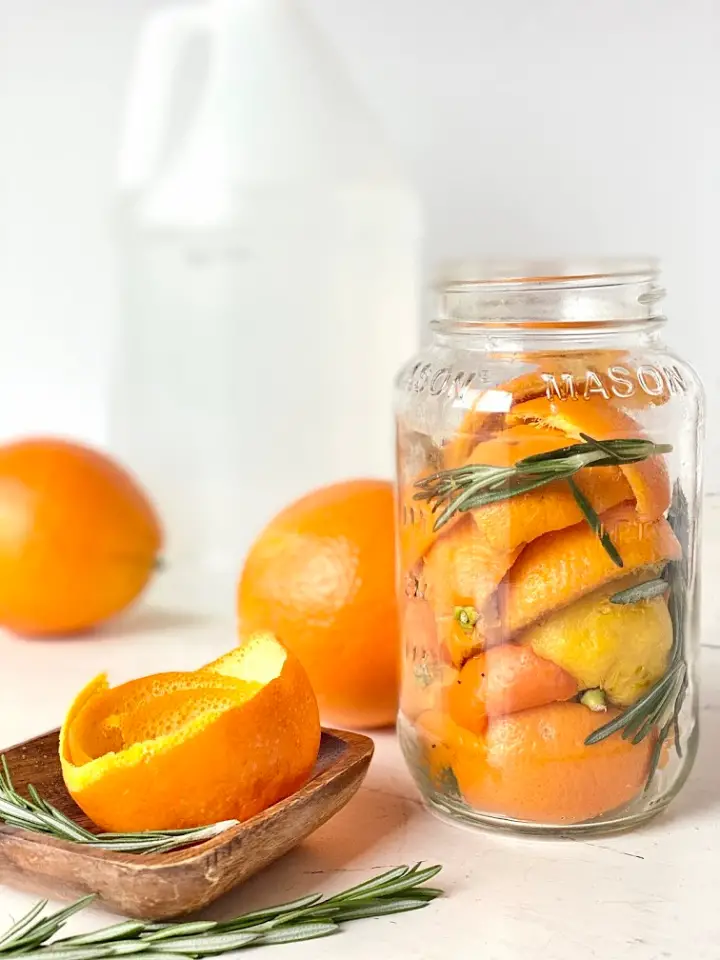 Making your own orange peel cleaner is an easy way to reduce waste and save money at the same time. Plus, it's a 100% all natural cleaner with zero toxins, unlike many other household cleaners on the market.
There's really only two ingredients– vinegar and leftover orange peels– but additional herbs or essential oils can enhance the smell.
Here are a few benefits of making orange peel cleaner at home:
safe for most surfaces
free of unhealthy toxins
saves money
reduces plastic waste
puts food waste to use
will last forever
This post includes everything you need to know about making your own homemade vinegar cleaner!
---
How Does Orange Peel Cleaner Work
It's almost unbelievable how effective orange peel cleaner is on stain removal. But what makes it work so well? There are two primary reasons.
Vinegar
Most vinegars are comprised of 4-5% acetic acid, which is either produced from natural fermentation or commercially.
Historically, vinegar was made after the fermentation of wine– sugar was fermented to alcohol, and then the alcohol was fermented for a second time to acetic acid. The word vinegar actually comes from 'vinaigre', a French word meaning 'sour wine'.
Acetic acid is the main cleaning component in vinegar. It dissolves lots of things including soap scum, glue residue from labels or stickers, and stains.
Wine, food, and sweat stains are all slightly acidic, and will dissolve in the presence of higher acidity.
---
Did you know Heinz also makes 'cleaning vinegar'? It's been chemically formulated to have a higher amount of acetic acid (6%) for even more potentcy.
The website doesn't say whether or not it's safe to consume, therefore it's not worth the risk to try. Stick to distilled white vinegar, which is multifunctional for use in recipes as well.
Orange Peels
The skins of citrus fruits contain d-limonene– a naturally occurring compound responsible for that citrus-y smell.
D-limonene is also a natural solvent, making it the perfect addition for a homemade citrus peel cleaner.
---
Tools Needed
Homemade orange peel cleaner is simple to make. With just a few ingredients and several weeks, you'll have enough all purpose cleaner to last months!
Glass quart-size jar (a recycled food jar is fine)
Glass spray bottle (feel free to rinse out an old plastic spray bottle as an alternative)
Distilled white vinegar
leftover orange peels from 4-6 medium sized oranges
Rosemary sprigs (optional)
Strainer or cheesecloth (optional)
How to Make Orange Peel Cleaner (Step by Step Directions)
Step 1. Save your peels!
Save orange peels in an airtight glass storage container or quart size Mason jar in the fridge. It may take peels from 4-6 medium sized oranges before the container is full.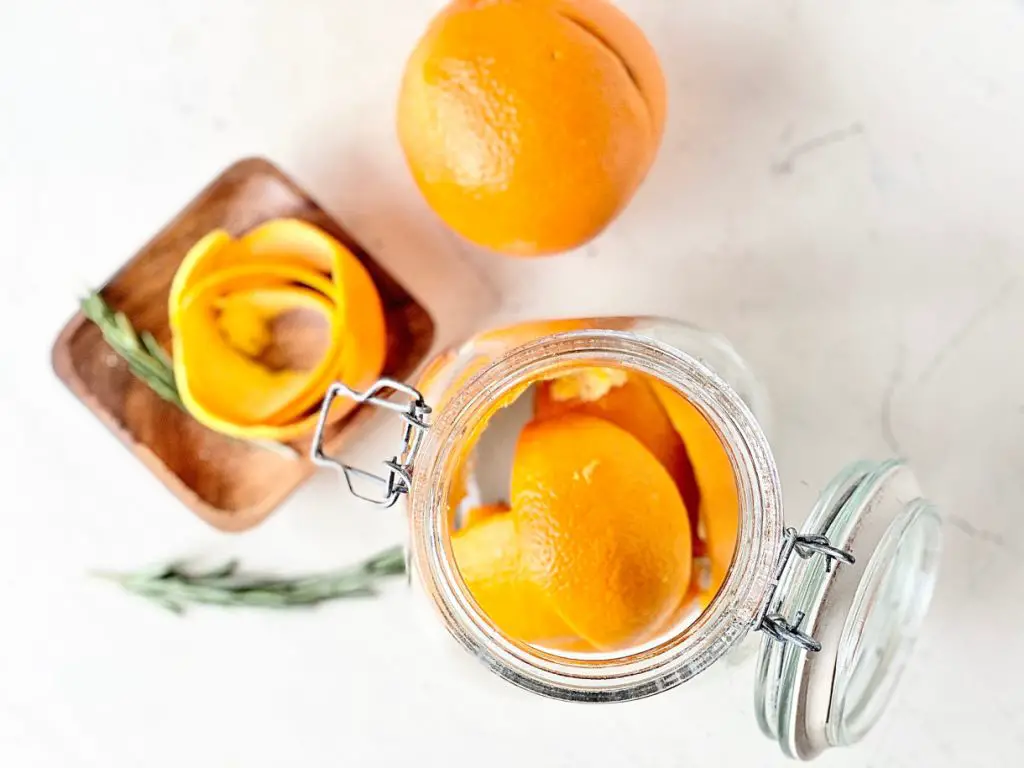 Step 2. Add vinegar and herbs (optional).
Pour in distilled white vinegar and add any additional herbs if desired. Rosemary pairs perfectly with citrus! Screw the lid tightly on.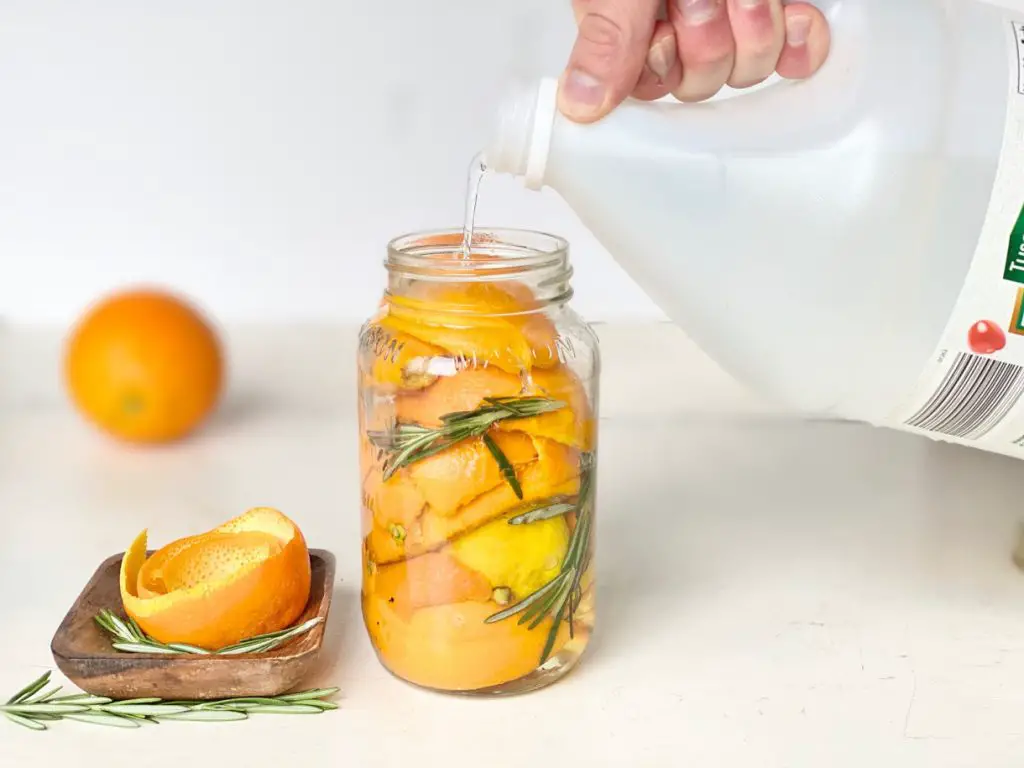 3. Store in a cool, dry area like the pantry for up to three months.
The longer the orange peels and vinegar are left to infuse, the better the cleaning solution will smell. I recommend waiting at least 8 weeks before using your orange peel cleaner.
Two weeks is the minimum amount of time I'd recommend before using, but it would still have a very potent vinegar smell. If you just can't wait, add a drop of two of lemon or orange essential oils to help cover the vinegar smell.
The mixture will become darker in color overtime as the citrus oils infuse into the vinegar.
The image below shows a newer jar of orange peel cleaner on the left, compared to a jar that's been left in the pantry for a few months.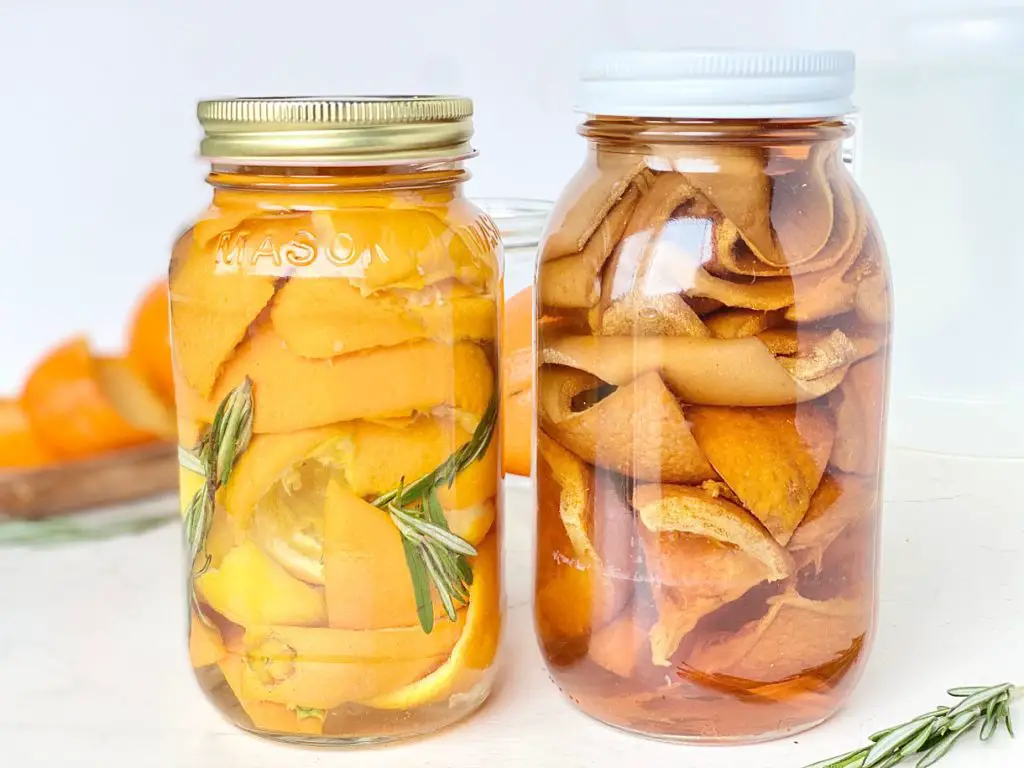 Step 4: Strain orange peels and compost, then transfer a portion of the remaining liquid to a glass spray jar. Dilute with an equal portion of water.
If the peels are packed tightly enough, you can just strain the liquid out into another container. Otherwise, you can use a strainer or cheesecloth.
Once the peels are strained, you'll have a jar of amber colored, citrusy liquid. Transfer a portion to a glass spray bottle. You'll want to fill the bottle to about half full.
Then, dilute the solution with an equal amount of water. For example, mix one cup citrus peel cleaner with one cup water. Now you have a high powered, all natural citrus peel cleaner.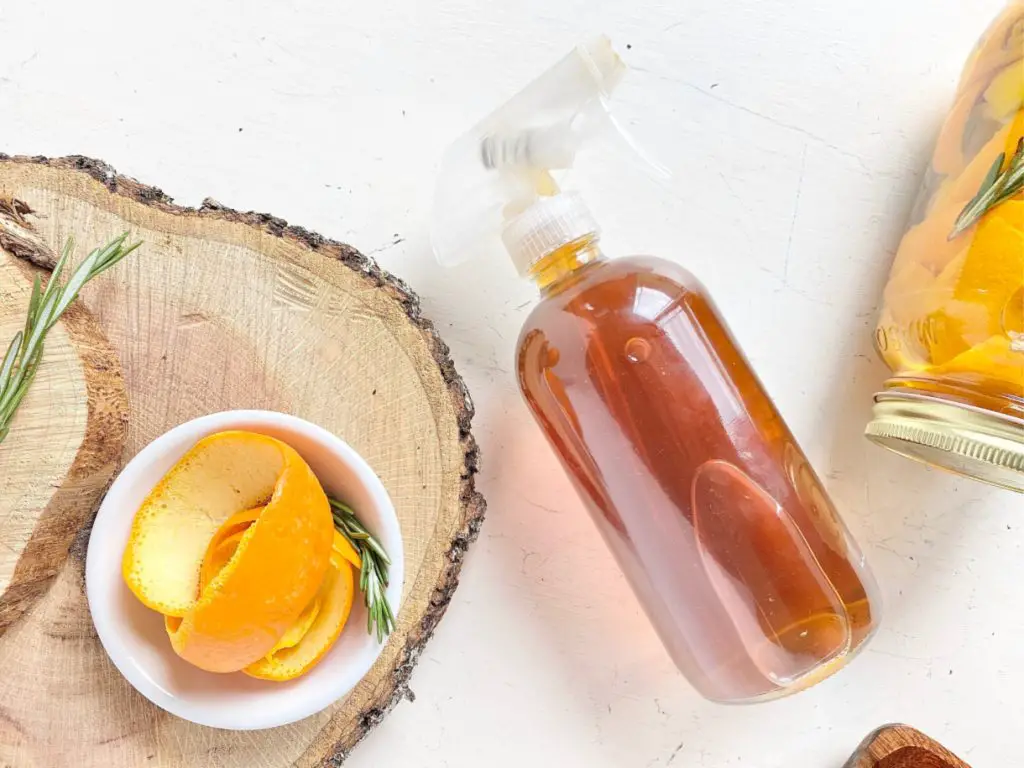 ---
How to Use Your Orange Peel Cleaner Around the Home
Flooring
Non-carpeted floors
Orange peel cleaner is safe to use on tile and linoleum flooring. Mix 1/2 to 1 cup vinegar cleaner with 1 gallon of water for best results. For tougher stains, use a higher concentration of cleaner.
Always air dry floors by opening a window or wipe dry with a towel.
Note: Use caution if cleaning hard wood or stone flooring with any type of vinegar product. The acetic acid can cause a chemical reaction and remove sealant or change surface compositions.
Carpet
Most stains can be removed with natural citrus peel cleaner. I've had success on wine spills, dirt from outside, and food stains. Simply spray the 1:1 vinegar solution directly on the stain and let it dissolve for about 5-10 minutes.
Blot the stain to ensure it doesn't rub into the carpet. Spray and blot again, until the stain is mostly removed. Then rub any remaining stain and vinegar residue out with a warm, damp cloth.
Kitchen
Countertops
Citrus peel cleaner should NOT be used on granite, quartz, or marble countertops. The vinegar's acidity can dull the surfaces and weaken any sealant used.
Stainless steel and wood countertops can be cleaned using diluted orange peel vinegar cleaner. A little goes a long way. Simply spray it on and wipe with a warm, moist cloth.
If you're unsure whether a vinegar cleaner is safe to use, always contact the manufacturer and ask.
Stovetops
Most stovetops can be easily cleaned with the orange peel and vinegar solution. Tough stains or residue may need more vinegar cleaner. Wipe off the surface with warm, damp cloth after the orange cleaner has been applied.
Sinks
Orange peel cleaner works great on stainless steel kitchen sinks and porcelain or ceramic bathroom sinks. Spray the sink, allow the vinegar cleaner to sit for a few minutes, and then wipe off with a damp rag.
Bathroom
Toilets
Vinegar cleaners can cut through toilet stains and odors, but it may not be the best disinfectant. While vinegar does have some anti-bacterial properties, it's best to use a higher powered disinfectant if germs are a concern.
Shower Walls/Bathtub
Orange peel cleaner breaks up soap scum and mildew that can accumulate on shower walls and in the bathtub. For heavy mildew, use a higher concentrated vinegar cleaner to water ratio.
Other Surfaces
Glass
Finally, orange vinegar cleaner is great for cleaning glass windows and mirrors. Only a small amount of vinegar solution is needed, usually only a few tablespoons per cup of water.
Professional cleaners suggest adding 1-2 tablespoons of cornstarch to the 1:1 vinegar solution for streak free windows that last weeks!
---
How Long Will Citrus Cleaner Last?
Homemade orange peel and other citrus peel cleaners will technically last forever. Vinegar does have a 'best by date', but white vinegar doesn't actually expire.
The overall acidity level or taste could change overtime with exposure to air and sunlight, but it will never go 'bad.' For best results, store in a cool, dry place like the pantry when not using.
---
Print
Zero Waste Orange Peel Cleaner Recipe
Ditch store bought all-purpose cleaners for this simple, DIY orange peel cleaner to save money and  reduce waste!
Author:
Prep Time:

5 minutes

Cook Time:

2 weeks

Total Time:

2 weeks + 5 minutes minimum

Yield:

4 cups

orange peel cleaner

1

x
Category:

zero waste cleaner
Instructions
Save orange peels in a quart size glass jar or other airtight container in fridge. Store covered in fridge until jar is full. (add herbs if using)
Once full, remove jar of orange peels from refrigerator and fill to top with distilled white vinegar.
Store in a cool, dry place for at least 2 weeks to allow the citrus oils and vinegar to infuse.
Strain out orange peels and keep citrus vinegar in an air tight container until ready to use.
Transfer a portion to a glass spray bottle and add water in a 1:1 ratio. (1 cup water to 1 cup orange peel cleaner)
Notes
***The longer the orange peels and vinegar are allowed to infuse, the better the citrus cleaner will smell.
***Always check with manufacturer before using orange peel cleaner if unsure how acids will impact surfaces.
***Orange peel cleaner should not be consumed. 
Nutrition
Serving Size:

0

Calories:

0

Sugar:

0

Sodium:

0

Fat:

0

Saturated Fat:

0

Unsaturated Fat:

0

Trans Fat:

0

Carbohydrates:

0

Fiber:

0

Protein:

0

Cholesterol:

0
Keywords: orange peel cleaner, zero waste cleaner
Check out these other zero waste recipes:
5 Ingredient Sourdough Starter Crackers
Zero Waste Homemade Chicken Stock- a Complete Guide
20 Food Waste Hacks You Can Implement at Home
Want more? Join the No Waste Community for weekly ideas on waste and saving money at home!
This page contains affiliate links, which means I earn a commission if you use them, at no extra cost to you. I only recommend products I actually use and trust. Please see my privacy and disclosure policy for details.