Single use plastic waste is a global issue, but luckily there are plenty of Ziploc bag alternatives available for long term use.
Sandwich bags were one of the first items I swapped out in an effort to create a more sustainable home. Reusable sandwich bags aren't much more expensive than one time use versions, so it's saved us money over the years.
Not to mention, the amount of landfill waste and pollution diverted.
This post will look at Ziploc bag alternatives you probably already have at home and the best options on the market.
eco-friendly Ziploc bag alternatives infographic
by Erin Gregory Hendrickson
---
The Problem With Single Use Plastic
Single use sandwich baggies are synonymous with the Ziploc name, even though there are many different brands and types now on the market. Ziploc bags were developed in 1968, and have been sold in stores around the world since.
Unfortunately plastic pollution has increased with the development of these convenience products.
Single use plastics have increasingly flooded landfills, bodies of water, forests, and roadsides. It's a wildlife hazard, plus takes hundreds of years to decompose.
Scientists aren't exactly sure how long plastic takes to disintegrate, but according to the EPA their best guess is anywhere from 200 to 1,000 years.
Try one of the Ziploc bag alternatives mentioned here to help decrease waste and save more money!
Ziploc Bag Alternatives you Probably Already Have
Reuse Ziploc Bags Again
Using what you already have is always the most sustainable option. Single use plastic bags can actually be used many times before being discarded.
Simply wash the bag with soap and water after each use and allow it to air dry before storing.
A few ideas for reusing Ziploc bags include:
covering herbs after they're placed in a glass jar for storage
storing veggie and bone scraps for homemade stock
storing wet paint brushes
holding makeup and beauty products for travel
makeshift piping bag for icing
Recycled Glass Jars
Replace single use sandwich bags with recycled glass jars. Glass jars that once held salsas, jams, and pasta sauce are perfect for storing snacks like crackers, cut fruit, or vegetable sticks.
Give glass jars a second life without spending any extra money!
Reusable Ziploc Bag Alternatives
There are countless eco-friendly Ziploc bags and substitutes on the market these days. I've highlighted my favorites below.
The products mentioned are manufactured either in the USA or in responsible factories abroad. All of them donate a portion of profits to earth friendly organizations.
Stasher bags are one of the most versatile options available. They're lightweight, are durable in almost any element, and can literally last forever!
They're available in a variety of sizes, from snack size to half gallons.
Stasher bag quick facts:
made of silicone (a natural combination of sand and carbon)
dishwasher, microwave, freezer, and oven safe
BPA free
can be used indefinitely
produced responsibly in China
---
LunchSkins reusable sandwich bags have been around for over a decade. They feature a zipper instead of a sealable closure, and come in lots of cute designs.
These come in a variety of sizes as well. Both the sandwich and gallon sizes are great for storing all types of foods and non-food items. I store socks and undergarments in my gallon sized LunchSkins when I travel.
LunchSkins quick facts:
made of quick drying fabric that is coated with a food-safe polyurethane liner
freezer and top shelf dishwasher safe
BPA free
can be used indefinitely
manufactured by woman-owned business, 3Greenmoms, LLC
---
Bees Wrap is a unique zero waste storage alternative, in that there's no zipper or sealed enclosure. Instead, the natural material holds its contents with a seal that forms using the warmth of our hands.
The wrap is made of organic cotton, beeswax, organic jojoba oil, and tree resin which forms a seal when heated. The sheets range in size from small enough to store lemons, to large enough to wrap a loaf of bread.
Bees Wrap is committed to supporting local and international eco-friendly organizations. It's no surprise that Bees Wrap sheets are compostable once their usage has peaked.
They even graciously donated wraps for a zero-waste holiday event I hosted with Urban Green Lab a few years ago.
Bees Wrap quick facts:
made of organic cotton sheets coated in beeswax, jojoba oil, and tree resin
not microwave or dishwasher safe (heat can melt off the wax seal)
BPA free
will last 2-3 years if cared for properly
handmade in Vermont
compostable at home or industrial facility
---
Bento Boxes
Bento style food storage containers are majorly trendy right now. They are a Japanese-style, reusable lunch box that holds a single portion meal or multiple snacks.
PlanetBox is a notable brand, which makes numerous reusable storage containers. Buy one, and it will last forever.
PlanetBox quick facts:
made of sterling silver
dishwasher and refrigerator safe, but not suitable for microwave or oven
BPA free
comes with a 5 year warranty, and can be reused indefinitely if properly maintained
manufactured responsibly in China
---
Pyrex Glass Storage Containers
Pyrex containers are my all time favorite glass store solution. The brand has been around for more than 100 years, which means vintage Pyrex collecting is a major sport for some people.
The glass containers are perfect for baking, cooking, and storing food. I've been slowly replacing my older plastic tupperware containers with glass versions.
Bonus- Pyrex is made in facilities across the USA!
Pyrex quick facts:
made of glass
dishwasher, oven, and microwave safe (do not heat plastic lids in oven)
BPA free
lasts, indefinitely and comes with a warranty
made in the USA
Compostable Ziploc Bag Alternatives
BioBag
The Biobag brand has a line of compostable sandwich and snack bags, as well as other compostable products like pet waste bags and compost pail liners for food scraps.
Most BioBag products are best suited for industrial compost facilities, so don't throw them out in your backyard compost pile.
BioBag quick facts:
made from a combination of resin derived from plants, vegetable oils and compostable polymers
freezer safe, but should not be heated
BPA free
can be reused several times with proper care
mostly manufactured in the USA, with a few products made in Thailand and Estonia
compostable via an industrial facility
LunchSkin Paper Sandwich Bags
We've already mentioned LunchSkin reusable bags, but they also have a compostable paper version. These paper sandwich bags make cute eco-friendly Ziploc bag alternatives perfect for the kiddo's lunchbox.
They come in a pack of 50 with stickers to seal in freshness.
LunchSkin Paper Bag Quick Facts
made from unbleached Kraft paper sourced from FSC-certified forests
not suited for heat or freezer use
BPA free
not meant for long term use but can be composted at home
manufactured by woman-owned business, 3Greenmoms, LLC, but website doesn't say where actual product is made
compostable at home or industrial facility
DIY Reusable Sandwich Bags
There plenty of tutorials for making your own Ziploc bag alternatives. Most of these only require scrap fabric, a sewing machine or fabric glue, plus a few other crafty materials you may have around the house.
Here are a few DIY reusable sandwich bag tutorials to check out:
No Sew Reusable Snack Bags by Made With Happy
Sewing Machine Reusable Sandwich Bags by A Beautiful Mess
Velcro Reusable Snack Bag by Wholefully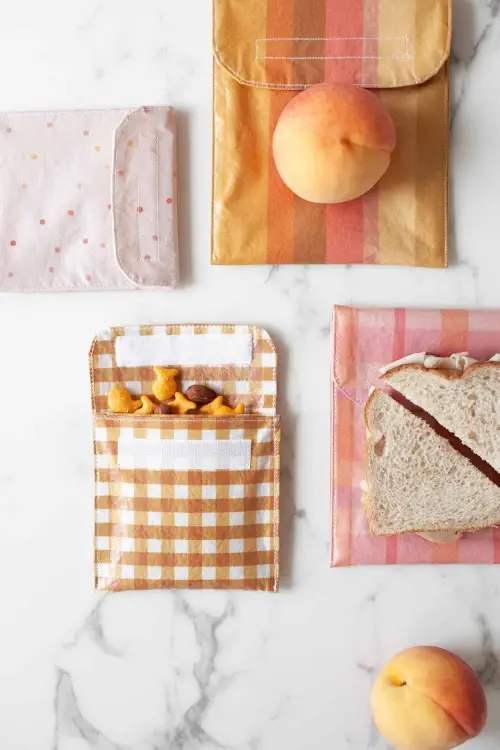 The Final Word on Ziploc Bag Alternatives
Replacing single use sandwich bags is an easy choice with all the different options and price points available.
Making a sustainable switch is just one step toward a more eco-friendly and plastic free lifestyle!
Want more low waste, money saving tips? Join the No Waste Community today!
---
This page contains affiliate links, which means I earn a commission if you use them, at no extra cost to you. I only recommend products I actually use and trust. Please see my privacy and disclosure policy for details.