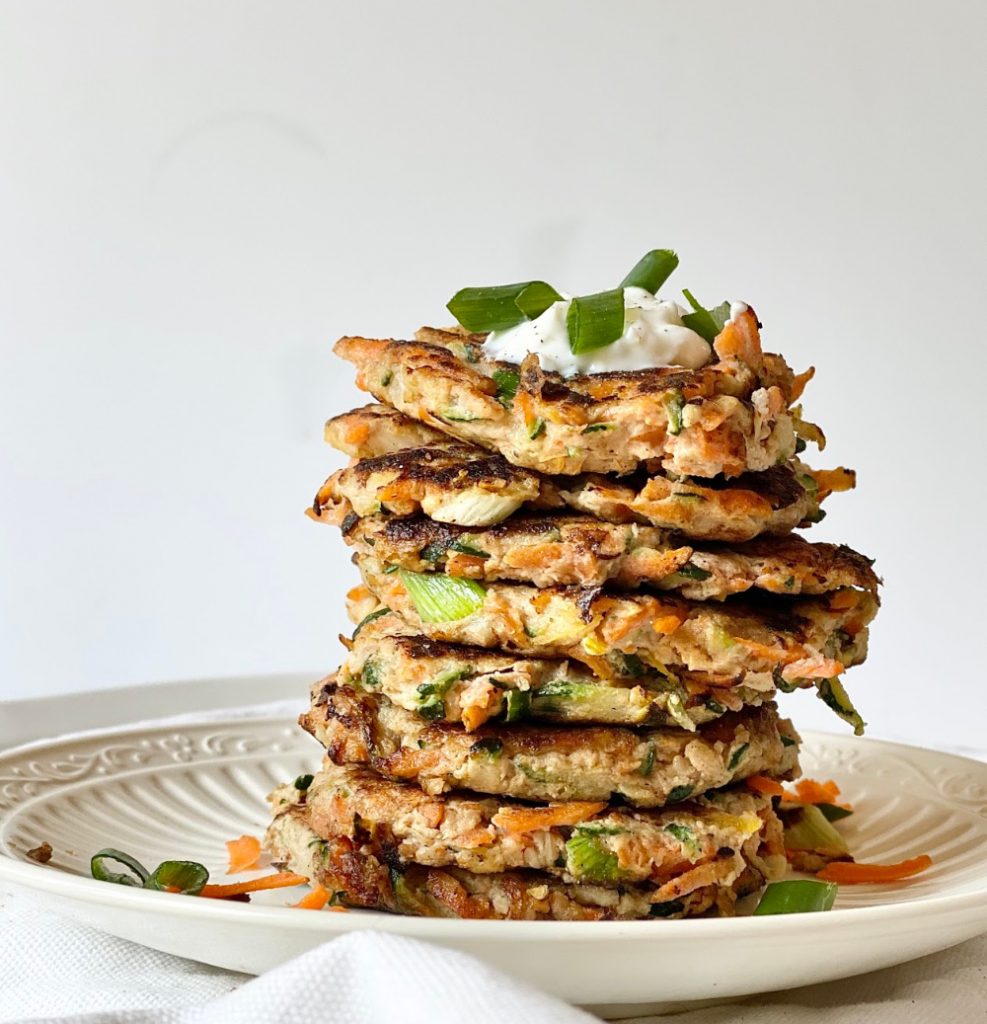 These lightened up zucchini carrot fritters are a great way to make use of your garden harvest, and are extra heart healthy! Ground walnut 'flour' is the binding agent, rather than traditional flour.
The result is a healthy, flavorful and savory meal or snack that's perfect for any time of day.
California Walnut Quickfacts
California walnuts work well in this recipe due to their mild flavor and versatility.
A 1 ounce serving contains 4 grams of protein and 2 grams of fiber.
A handful of California walnuts is a versatile snack and can satisfy any taste preference, from savory to sweet.​
Regardless of your flavor preference, walnuts are the only nut to provide an excellent source of the plant-based omega-3, ALA (2.5g/oz).
Tools Needed for Vegetable Fritters
The zucchini and carrots can be prepped ahead, which would allow the recipe to come together in a cinch.
Grater
Cheesecloth or dish towel for squeezing out veggie moisture
Mixing bowls (1 small and 1 larger)
Non-stick or How to Make Zucchini Carrot Fritters

First, prep the veggies. Shred the carrots and zucchini. Then use a cheesecloth to ring out water. Excess moisture makes for soggy fritters.

Zest 1 lemon and add to the carrot and zucchini mixture. Add the finely chopped green onions, but set aside a teaspoon for garnish.

Pulse California walnuts in a food processor or blender until very fine. I used a Nutribullet, which only has one speed setting.

The natural oils from the walnuts give it a nut butter feel. Other blenders may result in a more sand-like texture. Either one works.

Whisk eggs together in a small bowl, then mix eggs and all other ingredients together.

Drop a heaping teaspoon of fritter mix onto a heated cast iron skillet coated in 1 tablespoon of avocado oil. Use a tablespoon if larger fritters are prefered.

Let fritters cook 2-3 minutes on each side. Zucchini carrot fritters will be a golden brown color when cooked thru.

Let cooked fritters cool on a plate or rack covered with a tea towel or paper towel. This will help oil drain off.

Walnut Zucchini Carrot Fritter Ingredient Swaps

It's easy to swap out ingredients, whether it's for nutritional preferences or to use up what's on hand.

Use flax or chia seed eggs to make vegan fritters.

Regular white or wheat flour can be used instead of ground walnuts, or choose chickpea or almond flour to keep the recipe gluten free. Panko breadcrumbs would make a perfectly crispy fritter!

Nearly any shredded vegetable combination could work well here, as long as excess water has been removed.

Storing Gluten Free Fritters

Place cooked fritters on a paper towel or tea towel to soak up any oil or excess moisture from cooking. Let cool completely before transferring to an airtight container.

I wrap each fritter with linen cloths (paper towels also work) before storage to keep moisture at bay. It also prevents soggy fritters later on.

They'll keep in the fridge for up to four days, or in the freezer for three months.

How to Reheat Zucchini Carrot Fritters

If frozen, let thaw in the refrigerator. Fritters are best reheated in the oven for a few minutes or on the stove top.

Otherwise they can get soggy if heated in the microwave.

Print

Walnut Zucchini Carrot Fritter Recipe

Zucchini, carrots and walnut 'flour' combine to make light and savory fritters, perfect for any meal or snack!

Author:
Prep Time:

20 minutes

Cook Time:

5-8 minutes

Total Time:

30 minutes

Yield:

16

small fritters or

8

large

1

x
Category:

Lite meal, snack

Method:

stovetop

Ingredients

1 cup California walnuts, processed to a finely ground consistency

1 zucchini squash, shredded

2 medium carrots, shredded

1 teaspoon garlic, minced

3 green onions, chopped finely 

zest from 1 lemon

1/2 teaspoon baking powder

1/4 teaspoon freshly ground black pepper

1/2 teaspoon coarse salt

1–2 Tablespoons avocado oil for frying (can sub olive oil)

Instructions

1. Grate carrots and zucchini and squeeze out water using a cheesecloth or dish towel. 

2. Process walnuts in a food processor until a powdery consistency has formed. 

3. Whisk eggs in a small bowl.

4. Heat 1 or 2 Tablespoons of avocado oil in a non-stick pan or cast iron skillet over medium to medium high heat. Oil will start to sizzle when it's hot enough.

5. Combine all ingredients in a large bowl and mix until everything is coated with the egg mixture. 

6. Drop heaping teaspoons of fritter mix onto heated skillet. Use a tablespoon for bigger fritters.

7. Heat for 3-4 minutes until each side is a golden brown color. Flip several times throughout total cooking time. 

8. Remove from heat and place on a paper towel or tea towel covered plate to drain off oil. 

9. Serve over a bed of lettuce with your favorite dip or store for later. 

Notes

Note: shown with a lemon juice, herb, and Greek yogurt dip:

1 small garlic clove, minced
½ cup Greek yogurt
1 Tablespoon Lemon Juice
1 Tablespoon each dill and parsley, chopped 

 

Nutrition

Serving Size:

4 each small fritters

Calories:

160 calories

Sugar:

4 grams

Sodium:

183 grams

Fat:

13 grams

Carbohydrates:

9 grams

Protein:

4 grams

Keywords: Zucchini Carrot Fritter

---

Want other zero waste recipe ideas? Check these out!

How to Make Chicken Stock from Scratch

No Waste Sourdough Discard Crackers

Zero Waste Orange Peel Cleaner

Want to create less waste and save even more money? Join the No Waste Community!

---

This page may contain affiliate links, which means I earn a commission if you use them, at no extra cost to you. I only recommend products I actually use and trust. Please see my privacy and disclosure policy for details.