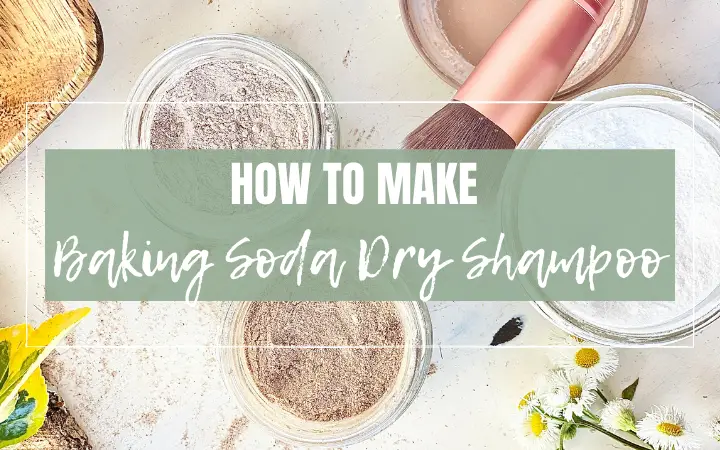 Baking soda dry shampoo is a budget friendly and waste free alternative to more expensive retail brands. It's all natural, and a creative way to use up pantry ingredients.
You'll extend time between washes, and keep hair looking and feeling fresh.
I've never actually purchased dry shampoo in my entire life. My mom always used baby powder to remedy oily hair, which is what I did for a while. Many conventional dry shampoos on the market contain similar ingredients that help absorb oil.
I switched to a baking soda based dry shampoo recipe several years ago when Johnson & Johnson baby powder first came under fire for reportedly containing cancer causing agents.
But the issues with conventional dry shampoo reach even further.
---
Conventional Dry Shampoo and Health Risks
Baby powder and some conventional dry shampoos contain talcum powder, which is a mineral made of magnesium, silicon, and oxygen. It's main function in powder form is to absorb oil.
Talc's natural form may contain trace amounts of asbestos. Asbestos is a dangerous carcinogen linked with lung cancer if inhaled.
While studies aren't conclusive that baby powder causes cancer, they've shown a possible link between talcum powder and ovarian cancer. A possible link was enough for me. Plus the Johnson & Johnson brand has been sued by numerous cancer patients for billions of dollars.
Another downfall of conventional dry shampoo is the aerosol spray factor. Liquid petroleum gas is a solvent that evaporates when sprayed on hair, leaving only the oil absorbing powders.
Aerosol sprays aren't as harmful to the Earth's ozone as in the past, but they're still flammable. The safest option is still switching to a homemade dry shampoo! No carcinogens, pollution, or risk of catching hair on fire!
Ingredient Examples for Baking Soda Dry Shampoo
You really only need two or three ingredients– baking soda, cornstarch, and maybe a third ingredient depending on hair color.
The ingredient list is quite similar to natural dry shampoos in stores, but at a much cheaper cost! Natural dry shampoos usually have some combination of the following items, which all help to absorb oil and impact color.
Making your own dry shampoo at home literally costs pennies, while quality dry shampoos start around $10 in stores and only last a little while.
If you're in a pinch and need to buy dry shampoo, look for one of these 11 highly recommended natural dry shampoo picks per the Cleanbeautygals.
---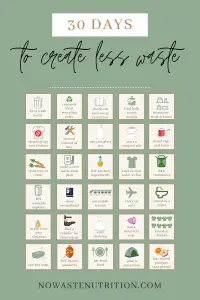 Ready to create less waste at home? Download the 30 day challenge to reduce waste and save money! Just click on the image to grab your PDF!
---
Homemade Dry Shampoo Base Ingredients
BAKING SODA– 1/4 cup
Baking soda AKA bicarbonate of soda is traditionally used as a leavening agent in baked goods. It's an alkaline compound that will form carbon dioxide gas bubbles when combined with an acid like vinegar or lemon juice.
It absorbs oil and odor in dry shampoo format. Baking soda also helps remove buildup when you wash your hair with actual shampoo. The granules act as a scrubber and natural clarifying agent that removes dirt and grime for each strand of hair.
CORNSTARCH-1/4 cup
Cornstarch is a thickening agent for soups, sauces, marinades, gravy, and desserts. It's basically corn flour (extracted from the endosperm of corn).
It also helps absorb moisture in packaged foods and prevents caking. Shredded cheese is actually coated in cornstarch to ensure it doesn't form a clumpy mass in the bag.
Those properties make it a perfect addition to baking soda in this dry shampoo recipe.
Cornstarch is naturally gluten free.
Baking Soda Dry Shampoo for Black Hair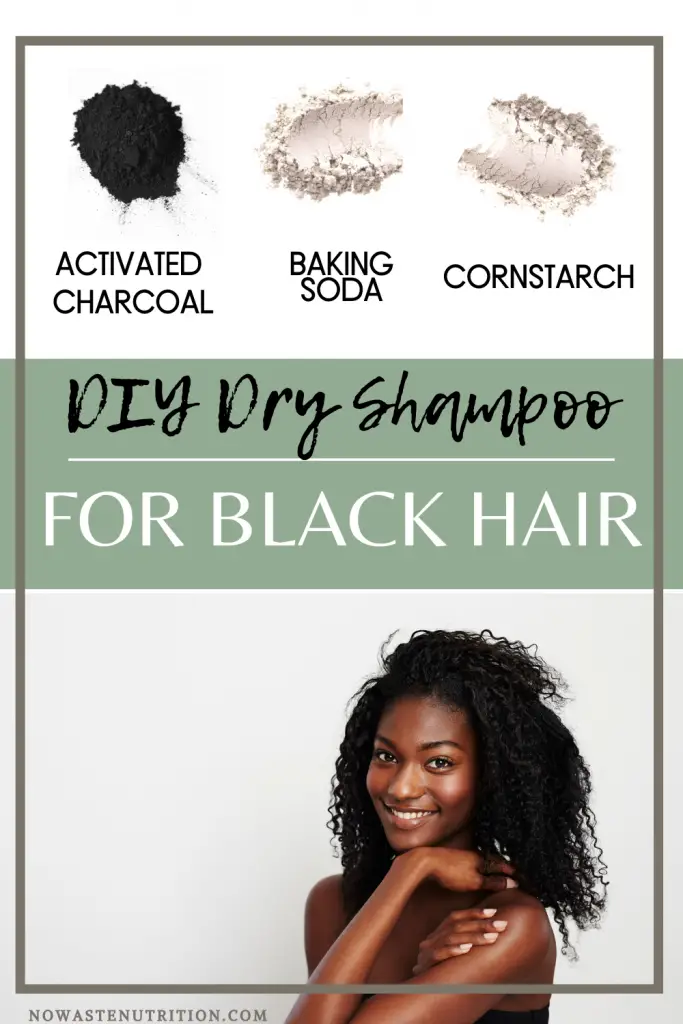 Activated charcoal is typically used in natural dry shampoo for black hair. And no, it's not the same charcoal used for summer grilling!
Activated charcoal has been around for centuries. Charcoal is activated by processing wood at high temperatures. Egyptians used this material to keep wood from rotting and to absorb odor as far back as 1500 B.C.
It also has beneficial antibacterial properties. Other uses for activated charcoal include water filtration, teeth whitening, facial scrubs, and soaps.
Recipe for Homemade Dry Shampoo for Black Hair
Add more more or less charcoal depending on the shade of black or dark hair!
Baking Soda Dry Shampoo for Brown Hair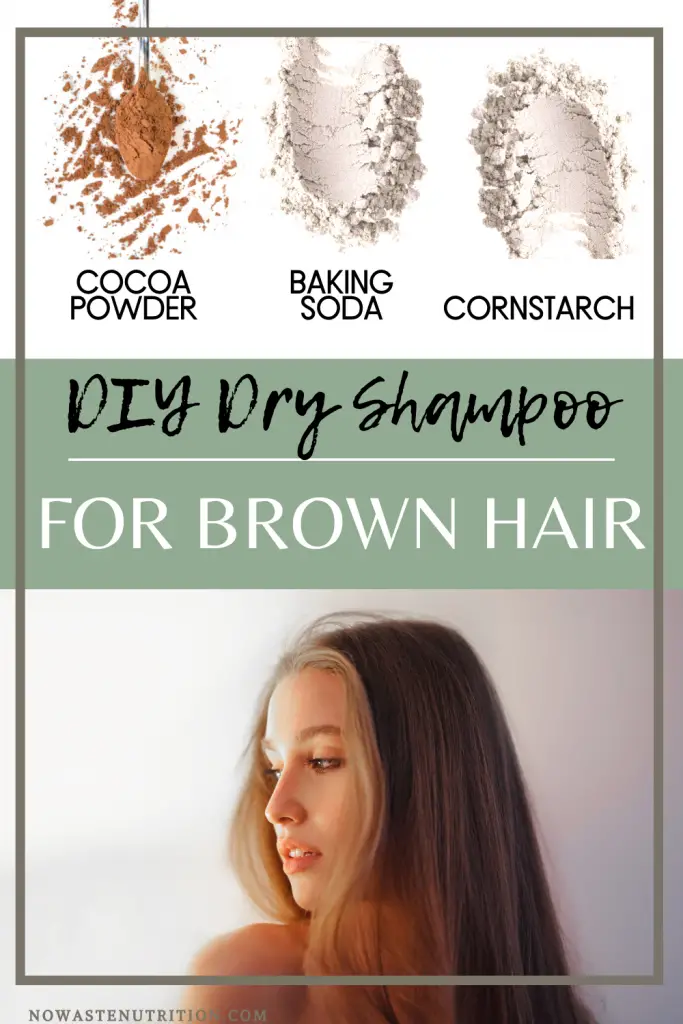 Homemade, natural dry shampoo for brown hair should include cocoa powder. Cocoa powder gives the dry shampoo a darker tint and ensure it blends in with hair.
Note: Fresh cocoa powder may give off a light scent. A waft of chocolate isn't so bad every once in a while!
DIY Dry Shampoo Recipe for Dark or Brown Hair
Baking Soda Dry Shampoo for Red Hair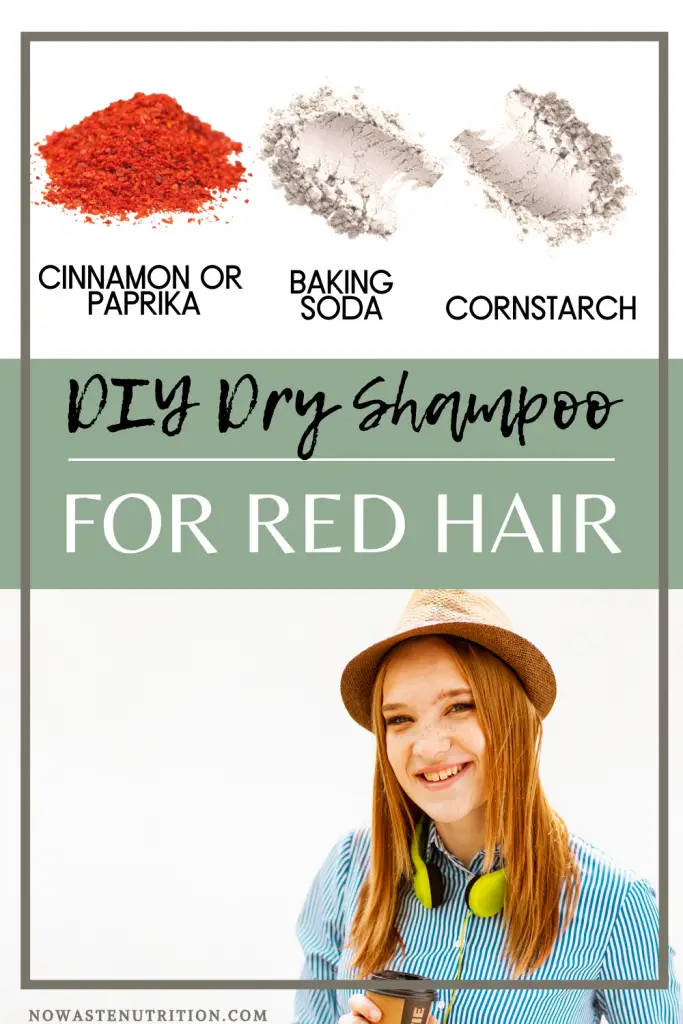 Cinnamon or paprika works great in dry shampoo for redheads. A tablespoon should work, but increase or decrease amount depending on hair color.
Dry Shampoo recipe for red hair
Homemade Dry Shampoo for Blonde Hair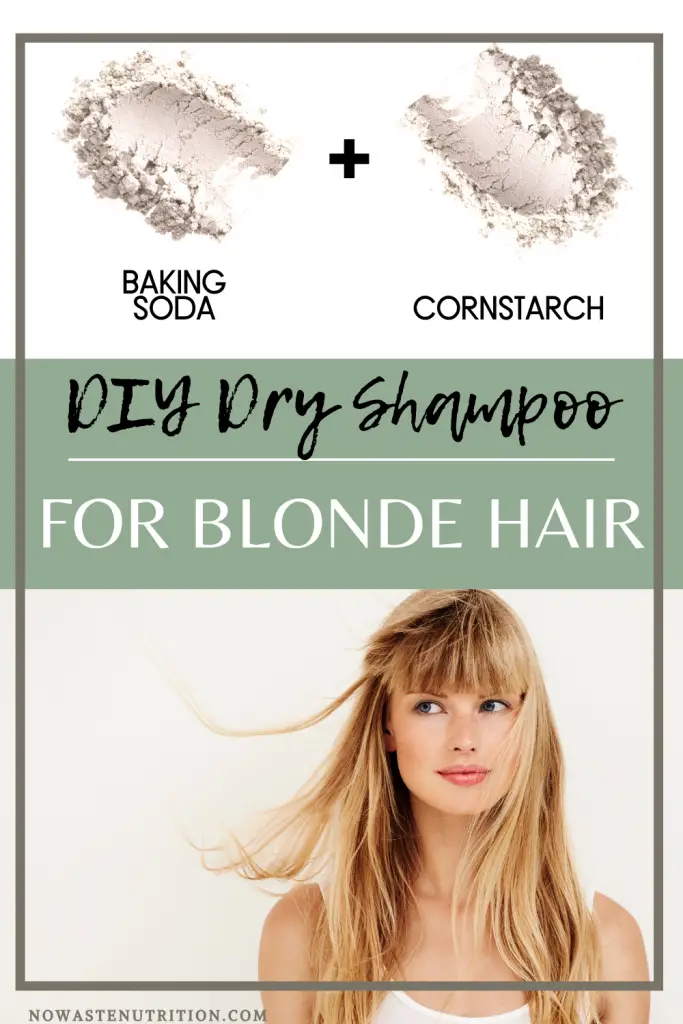 Blonde hair only needs baking soda and cornstarch for dry shampoo. For darker shades of blonde, add in a tiny bit of cocoa powder. This will help it blend in around roots.
Dry Shampoo recipe for blonde hair
Ingredient Substitutes for Baking Soda Dry Shampoo
Don't have ingredients readily available? There are plenty of substitutes you may already have in your pantry.
Cornstarch Alternatives for dry shampoo:
Alternatives for Hair Color
Red Hair: pumpkin pie spice, ground turmeric, paprika, red clay
---
How to Use Baking Soda Dry Shampoo
Mix 1/4 cup baking soda and 1/4 cup cornstarch and store in an airtight container or an empty spice shaker. Mix in cinnamon, cocoa powder, or activated charcoal as needed.
There are several ways to apply dry shampoo in powder form. A small amount will go a long way. Too much at one time may cause buildup and be noticeable.
Use DIY dry shampoo for up to two to three washes. Usually one application of DIY dry shampoo will last around two days before I need to reapply.
Note- Dry shampoo of any form used in excess may cause build up or lead to dry and brittle hair.
Apply with a makeup brush. This is the least messy version of the three. Dip the makeup brush in the baking soda mixture and tap off any excess powder. Start brushing dry shampoo into the roots around hairline and then on to where hair parts.
Shake it directly onto roots and around part using a seasoning or spice shaker.
Sprinkle the mixture in your palms and massage it into hair. This can get messy if you're not careful. I always end up with more dry shampoo on my clothes than in my hair.
Let the baking soda dry shampoo sit in hair for a minute or two to soak up oils. Then brush it out or massage it into roots.
Massaging it into the roots and scalp will ensure it's all blended in with your hair.
How Long Will DIY Dry Shampoo Last?
This baking soda dry shampoo recipe is safe to use for basically forever. Baking soda, cornstarch, flour, and seasonings all have expiration dates. However the dates are to ensure peak quality, taste and freshness, and have nothing to do with product safety.
That means these shelf stable ingredients may be used indefinitely. Homemade dry shampoo is a great way to make use of ingredients past their cooking prime!
---
Get the Recipe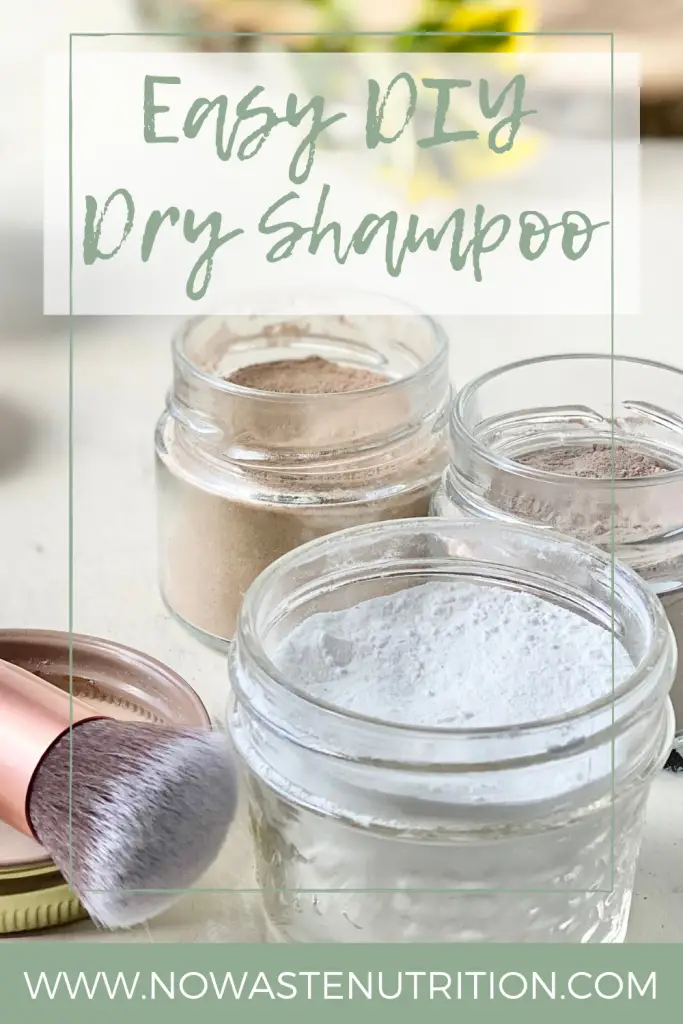 Print
Baking Soda Dry Shampoo Recipe
This baking soda dry shampoo recipe is an easy zero waste and budget friendly swap, using just 3 pantry ingredients! 
Author:
Prep Time:

5

Total Time:

5 minutes

Yield:

1/2 cup

1

x
Ingredients
1/4 cup baking soda
1/4 cup cornstarch 
1 Tablespoon cocoa powder (only add in for darker hair colors)
1 Tablespoon cinnamon (only add in for red hair)
1 Tablespoon activated charcoal (black hair only)
Instructions
1. Combine baking soda and cornstarch together in an airtight container or spice shaker.
2. Mix in cocoa powder, activated charcoal, or cinnamon as needed. 
3. Shake in sealed container until all ingredients are thoroughly mixed. 
To Apply (3 different ways):
Brush into roots around hairline and part using a makeup brush. 

Shake it directly onto roots and around part using a spice shaker.

Sprinkle the mixture in your palms and massage it into hair

.
Notes
this amount should last up to 6 months 
store in an airtight container or empty spice shaker 
not to be consumed 
Nutrition
Serving Size:

0

Calories:

0

Sugar:

0

Sodium:

0

Fat:

0

Saturated Fat:

0

Unsaturated Fat:

0

Trans Fat:

0

Carbohydrates:

0

Fiber:

0

Protein:

0

Cholesterol:

0
Keywords: baking soda dry shampoo
More popular zero waste recipes from No Waste Nutrition:
Cleaning Solutions
Zero Waste Orange Peel Cleaner
Food Recipes
Zero Waste Cinnamon Apple Chickpea Cookies
Scratch Made Chicken Bone Broth
Sourdough Starter Discard Crackers
---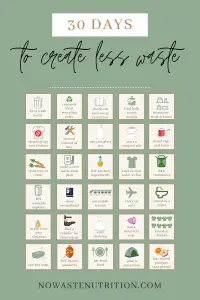 Ready to create less waste at home? Download the 30 day challenge to reduce waste and save money! Just click on the image to grab your PDF!
---
This post contains affiliate links, which means I may receive a small commission if you purchase a linked product, at no extra cost to you. Please review my privacy policy for more details.