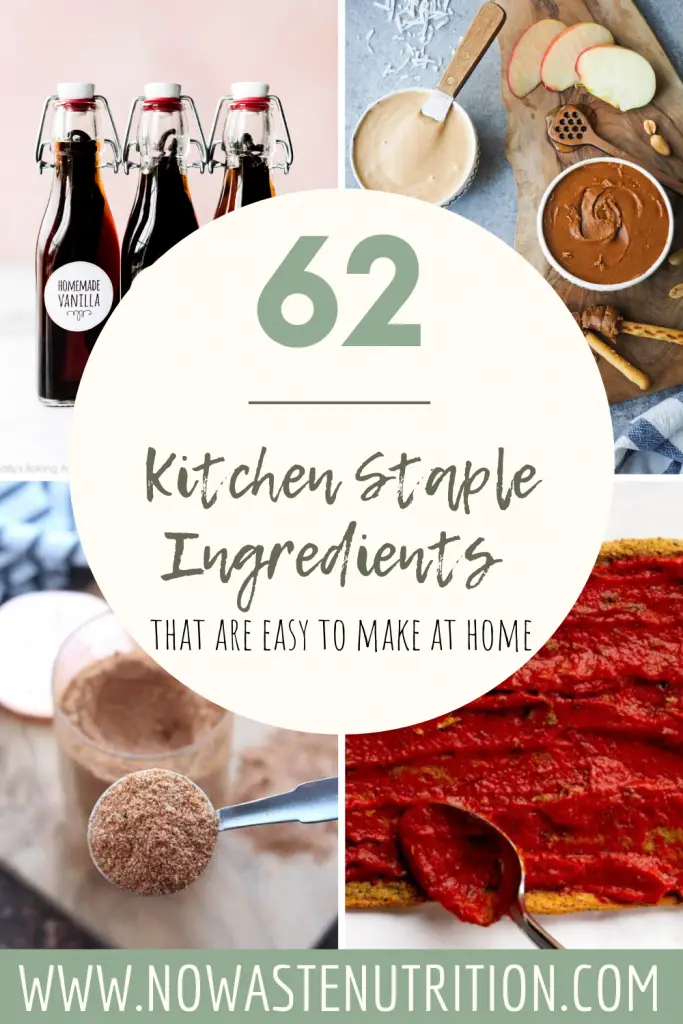 Essential kitchen staples make meal planning and cooking much easier. Knowing how to make those key ingredients is even more helpful, because you don't have to rely on stores having items in stock AND it saves money!
Related: 53 Ways to Save Money at the Grocery Store
Making your own kitchen staple ingredients (like condiments, sauces or seasonings) at home has many other benefits as well:
prevents an overly cluttered pantry and fridge
helps reduce unnecessary food packaging waste
eliminates artificial ingredients
reduces food waste
Don't get me wrong. Some kitchen staples are much more convenient to buy, like mayo or kimchi.
Then there are others that I've learned to make myself from scratch that are tastier and more cost effective than storebought versions. I haven't purchased bone broth, salad dressings, or applesauce in years!
I asked my dietitian friends and nutrition professionals around the internet for their favorite kitchen staple recipes and they didn't disappoint!
Click through the different categories to see all the staple ingredients you can make at home!
What exactly are Kitchen Staples?
A kitchen staple ingredient is an ingredient that can be used in multiple recipes and meal plans, or maybe even consumed all by itself. Think hummus, yogurt, plant based milks, granola, or seasonings.
We often buy these foods pre-packaged at the grocery store. But some are actually super simple to make with items we probably already have in our pantries and fridge.
Making these kitchen staples at home is one small shift toward a more sustainable lifestyle.
---
Sauces
Consider creating one or two favorite sauces from scratch! Because they won't contain any preservatives or artificial ingredients, they'll need to be used up within a week.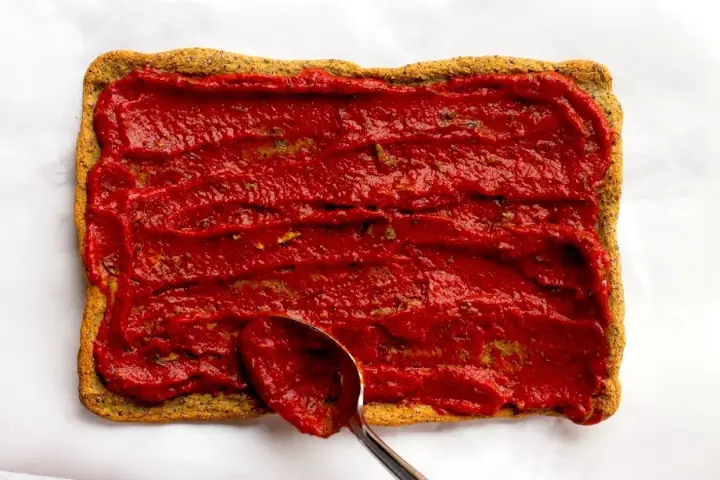 Homemade Basil Pesto from The Domestic Dietitian
Tzatziki from The Wandering RD
Homemade Salsa with Serrano Peppers from The Oregon Dietitian
Enchilada Sauce from Scratch from the Oregon Dietitian
Homemade Spaghetti Sauce from the Domestic Dietitian
Cherry Mint Salsa via Your Choice Nutrition
Quick and Easy Pizza Sauce via Wholly Plants
Easy Homemade Tomato Sauce With Mushrooms from Jessica Levinson
---
Seasonings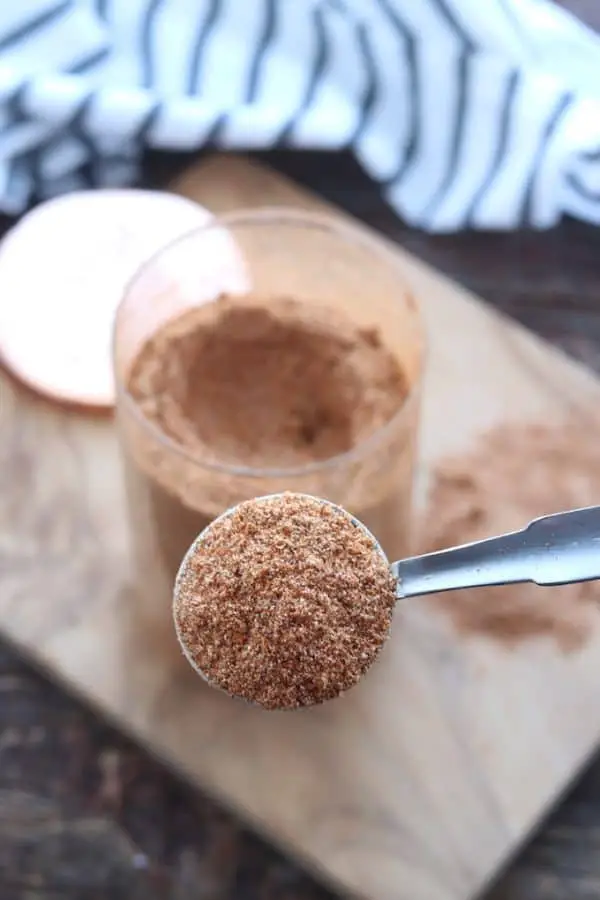 Premade spice blends are a waste of money for the most part, unless you can purchase them from the bulk aisle section in only the amounts you need.
Otherwise you can probably make them with ingredients you already have on hand. Check out a complete list of pantry essentials to keep on hand from a fellow frugal dietitian.
Garam Masala from The Delicious Crescent
Gyros Seasoning Blend via Dish and Delight
Taco Seasoning Mix from Create Kids Club
Homemade Pumpkin Pie Spice via Your Choice Nutrition
---
Breads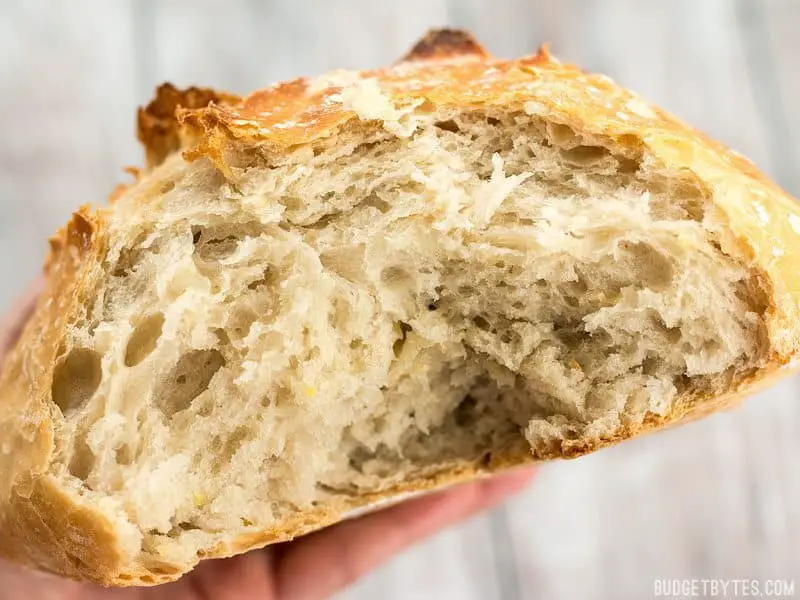 Fresh, high quality breads can get expensive at the bakery. Making bread at home is much easier than most imagine, especially if you start with an easy no-knead bread!
I recommend investing in a cast iron Dutch oven for traditional style bread making! They aren't expensive and will last forever if cared for properly.
No Knead Bread from Budget Bytes
Homemade Flour Tortillas via Sara P Flugradt
Fresh Indian Naan Bread via Sara P Flugradt
Homemade Whole Wheat Croutons from Simply Nourished Home
Sourdough Starter Discard Crackers via No Waste Nutrition
---
Broth and Stock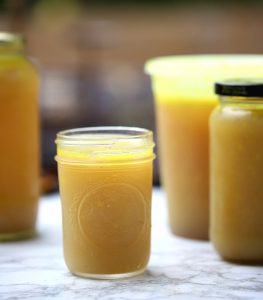 Cooking stock or broth from scratch is one of the best ways to reduce food waste. It's much more flavorful than store bought versions, and can save a lot of money as well.
Chicken bone broth can cost up to $10 a cup in some stores, but can be made at home for just pennies!
How to Make Vegetable Broth from the Oregon Dietitian
Sippable Chicken Bone Broth via Food Pleasure and Health
Homemade Chicken Stock from No Waste Nutrition
Roast Beef Stock via Bon Appetit
---
Salad Dressing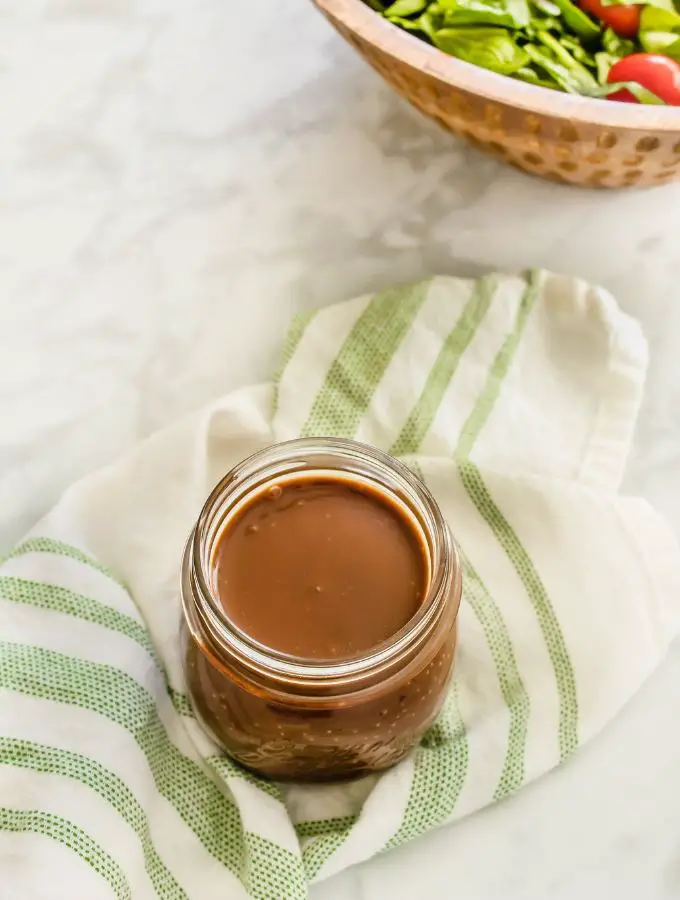 Salad dressing is one of easiest and quickest kitchen staples you can whip up at home. An olive oil, yogurt, or vinegar base can yield countless options.
Use herbs and spices from the pantry to create different flavor profiles!
Cherry Balsamic Vinaigrette from Kiss in the Kitchen
Sweet and Tangy Balsamic Vinaigrette from Jennifer Hunt Nutrition
Tahini Salad Dressing via Melissa Traub
Summer Herb Yogurt Dressing from Jenny Shea Rawn
Dijon Vinaigrette from Live Best
Vegan Lemon Vinaigrette via Champagne Nutrition
Creamy Maple Balsamic Vinaigrette via Byte Sized Nutrition
Lemon Herb Kefir Salad Dressing from Craving Something Healthy
Pumpkin Vinaigrette via Melissa Traub
Spicy Thai Peanut Dressing from the Cheesy RD
---
Jams and Jellies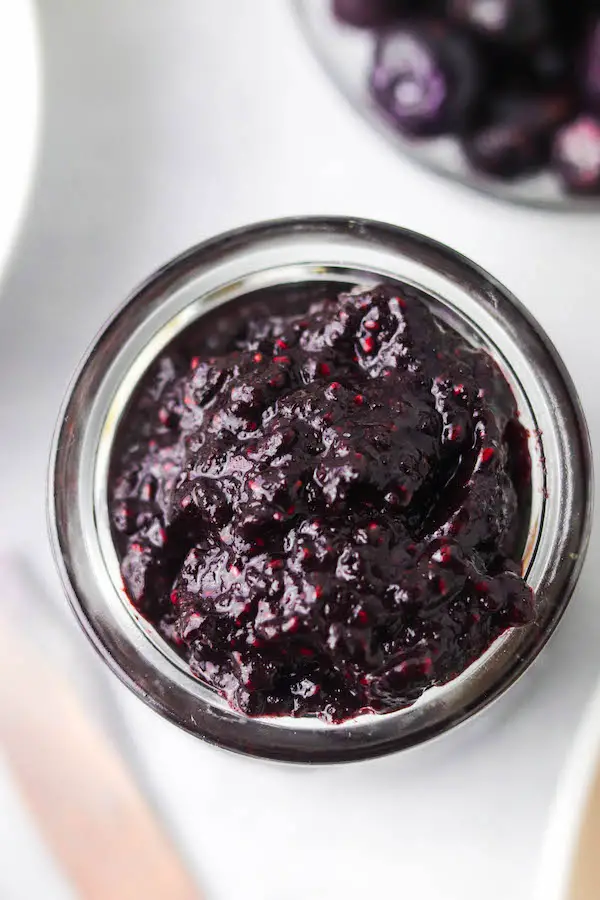 Homemade jelly and jams are a great way to make use of seasonal fresh fruits. Many store bought jellies contain excessive amounts of sugar. A bit of sugar goes a long way in these homemade versions, or there are no added sugar options as well.
No Added Sugar Blueberry Jam via Colleen Christiansen Nutrition
Raspberry Chia Seed Jam via Halsa Nutrition
No Added Sugar Pineapple Jam from Live Best
Prune Jam via Amy Gorin
Cherry Berry Chia Jam via Bonnie Taubdix
---
Coffee Creamer and Syrups
These homemade coffee creamer recipes are so easy to make! Play barista at home and impress your housemates or guests with delicious coffee flavorings.
Gingerbread Coffee Creamer from Simply Nourished Home
Homemade Flavored Coffee Simple Syrup from the Domestic Dietitian
Easy Vanilla Syrup from RDRX Nutrition
Cinnamon Vanilla Syrup from Your Choice Nutrition
---
Nut Butter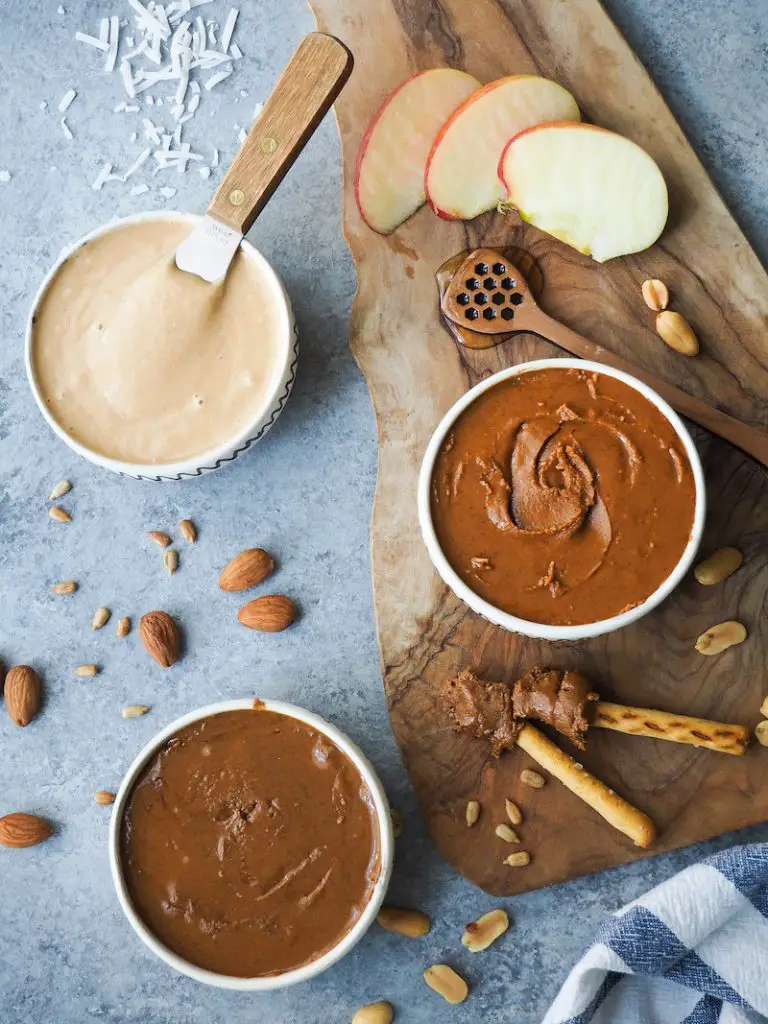 Save money on costly nut butters by making them yourself. It's one of the easiest kitchen staples to prepare if you have a high speed blender or processor.
And you can customize them with different add ins and flavors!
How to Make Specialty Nut Butter from Rachael Hartley (Vanilla almond sunbutter, spicy cinnamon peanut butter, and coconut macadamia nut butter)
Almond Butter Recipe via Cookie and Kate
5 Minute Homemade Peanut Butter from Pinch of Yum
Nut and Seed Butter via Live Best
Maple Cinnamon Pecan Butter from Got Nourishment
---
Plant Based Milk
Have extra nuts or oats in your pantry that need to used? Try making your own nut milk. Be sure and save the pulp for baking!
Easy Homemade Almond Milk from RDRX Nutrition
How to Make Oat Milk from Minimalist Baker
Hazelnut Fig Milk via One Green Planet
---
Yogurt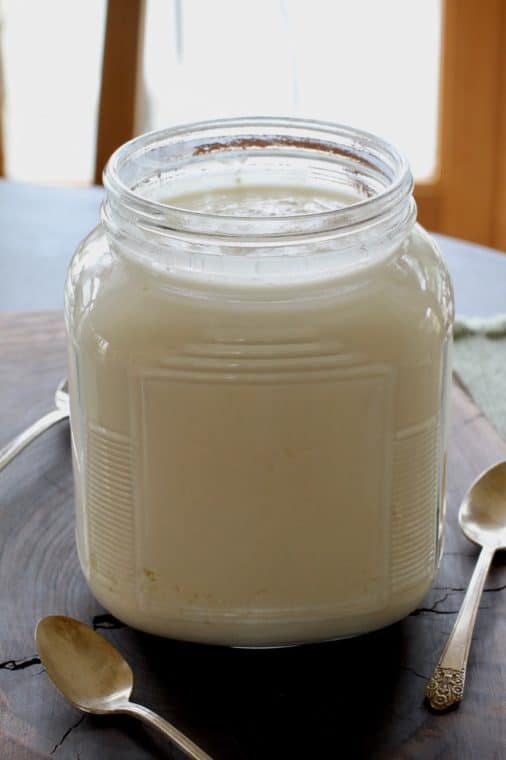 Making yogurt at home may seem like a daunting task, but the following recipe breaks it down into easy steps.
Step by Step Recipe for Homemade Yogurt from Live Best
---
Kitchen Staples for Baking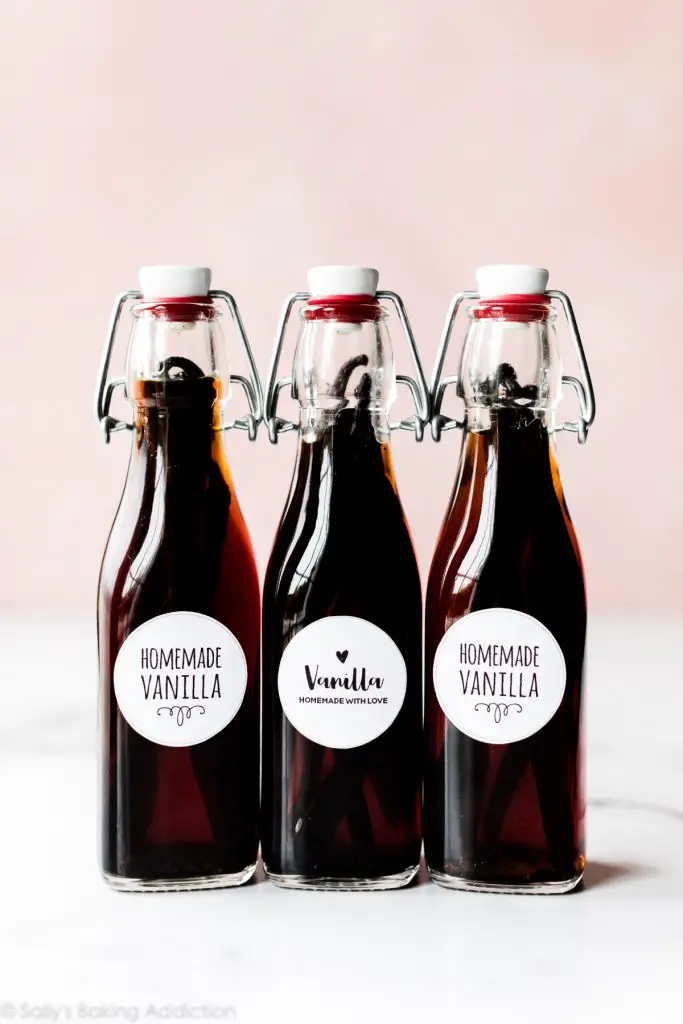 Some staple baking ingredients can be made by mixing together a few common ingredients.
Self Rising Flour from Add a Pinch
Whole Wheat Breadcrumbs via Diana K Rice
Bread Flour via Savory Simple
Gluten Free Flour from Amy Gorin
Homemade Vanilla Extract via Sally's Baking Addiction
---
Granola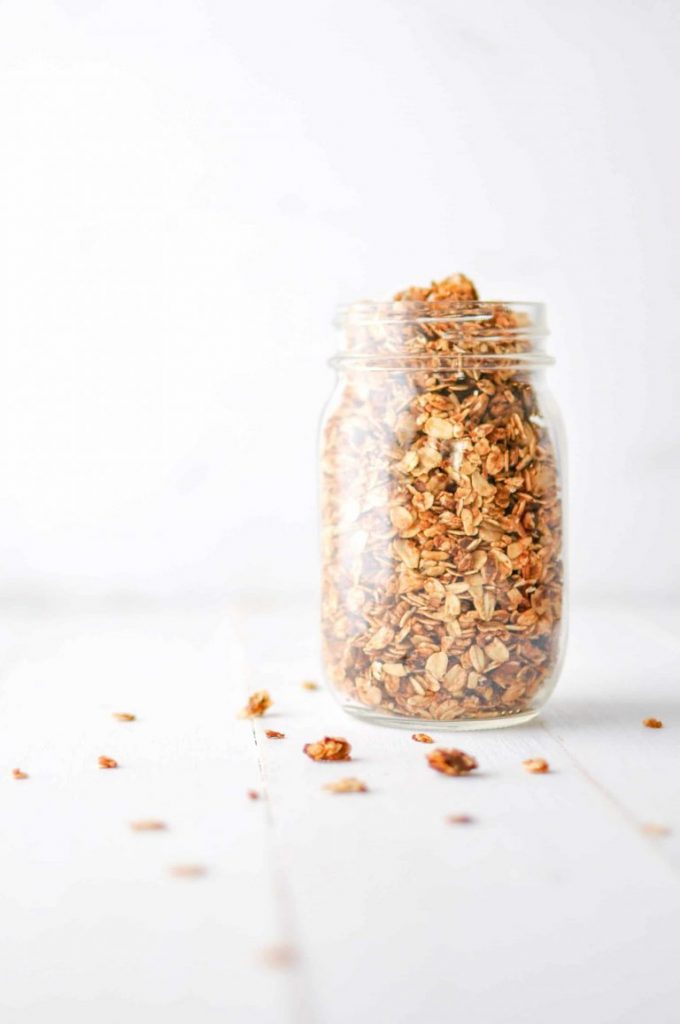 Granola is so easy to throw together using pantry staples and spices. The options are endless for homemade granola.
These make thoughtful, homemade holiday gifts as well!
Peanut Butter Granola from Nourish Nutrition Blog
Savory Parmesan Granola from Craving Something Healthy
Almond Cranberry Granola via The Healthy Maven
---
Beverages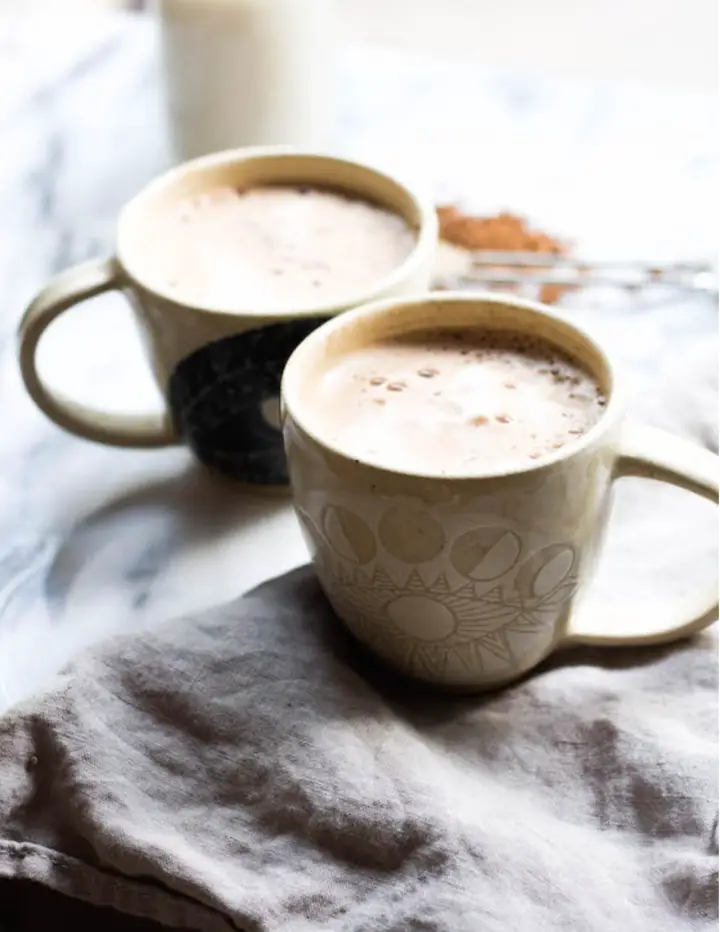 Use garden herbs, spices and pantry ingredients to create homemade teas and other drinks!
Rosemary Peppermint Tea from Being Nutritious
Gold Milk (Turmeric Milk) from Downshiftology
How to Make Kombucha Tea from Live Eat Learn
Hot Cocoa from Food by Mars
Homemade Electrolyte Sports Drinks from Mommypotamus
---
Final Thoughts on Homemade Kitchen Staples
Cooking everything from scratch isn't realistic. Making a few key kitchen staples at home can extend the food budget, reduce food waste, and eliminate some preservatives and artificial ingredients coming from retail foods.

Plus, creating things in the kitchen fosters a sense of accomplishment and and resourcefulness that you just can't get when you buy it from a store.
---
Want more ideas on reducing waste and saving money? Join the No Waste Nutrition community for more tips!
This page contains affiliate links, which means I earn a commission if you use them, at no extra cost to you. I only recommend products I actually use and trust. Please see my privacy and disclosure policy for details.