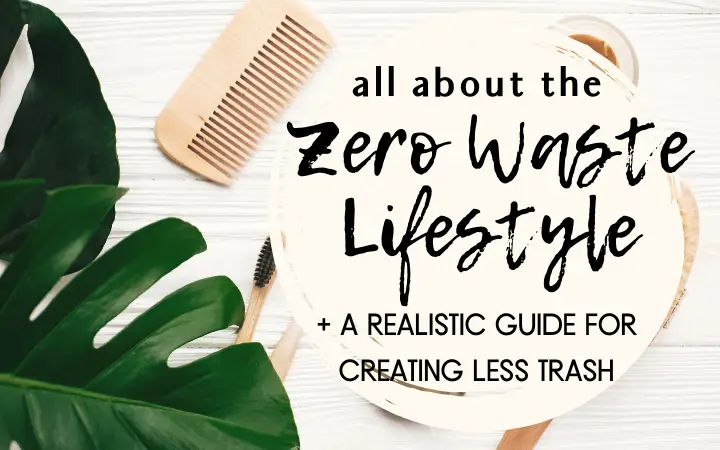 A zero waste lifestyle is a sustainable way of living with the overall goal of creating little to no trash.
It's not a new concept by any means. Our ancestors were the true zero waste pioneers. They made do, often in the face of poverty, wars, and systemic oppression. Along the way our fast paced, modern culture became reliant on convenience.
Now, there's a movement developing to combat the environmental destruction that this convenience culture has caused.
Going zero waste never happens overnight. Instead, it's a constantly evolving, conscious effort to do better, waste less, and demand more of corporations producing our goods.
As a matter of fact, 'zero waste' is a bit misleading. It's practically impossible to create absolutely no waste at all by today's standards.
This post will dive deep in the history of the zero waste movement, and explore why it's more than just a trend. We'll discuss why a zero waste lifestyle is so important, and after that you'll leave with actionable steps to majorly reduce household trash!
---
Take the Challenge and Reduce Your Waste in 30 Days!
Before we get started, get the '30 Days to Create Less Trash' PDF printable! You'll get 30 mindful tips for dramatically reducing waste in 30 days!
Don't worry! Hardly any of these 30 tips require spending any money. After all, the best way to curb waste is using the resources we already have on hand!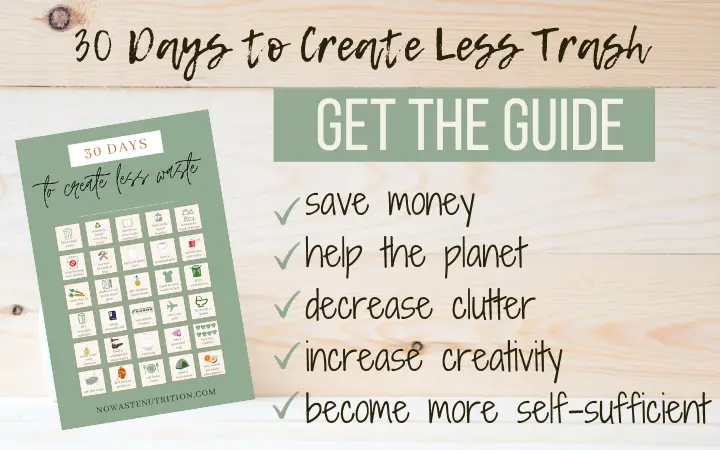 ---
We all start somewhere, and every small change makes a difference!
Low waste living takes on many forms, and there's no one size fits all definition. We may be unable to do it all, but we can all do something, however small it may be.
Only a small fraction of zero wasters live in a sustainably built tiny home or Earthship, but an urban homestead just outside the city is more attainable.
Another easy low waste initiative is renting (or borrowing) instead of buying. There are services that rent out tools, camping equipment, garden space, and clothing. Similarly, even formal wedding dresses can now be rented out.
On the other hand, reducing waste could be a commitment to buying second hand. This still ensures a circular economy where no resources are thrown away.
Every single step in your zero waste journey is movement in the right direction.
Next, we'll look at the principles of wasting less and how the movement started.
Principles of a Zero Waste Lifestyle
A waste free lifestyle helps push us toward a more circular economy, rather than a linear one. But what exactly does that mean?
Circular Economy Versus Linear Economy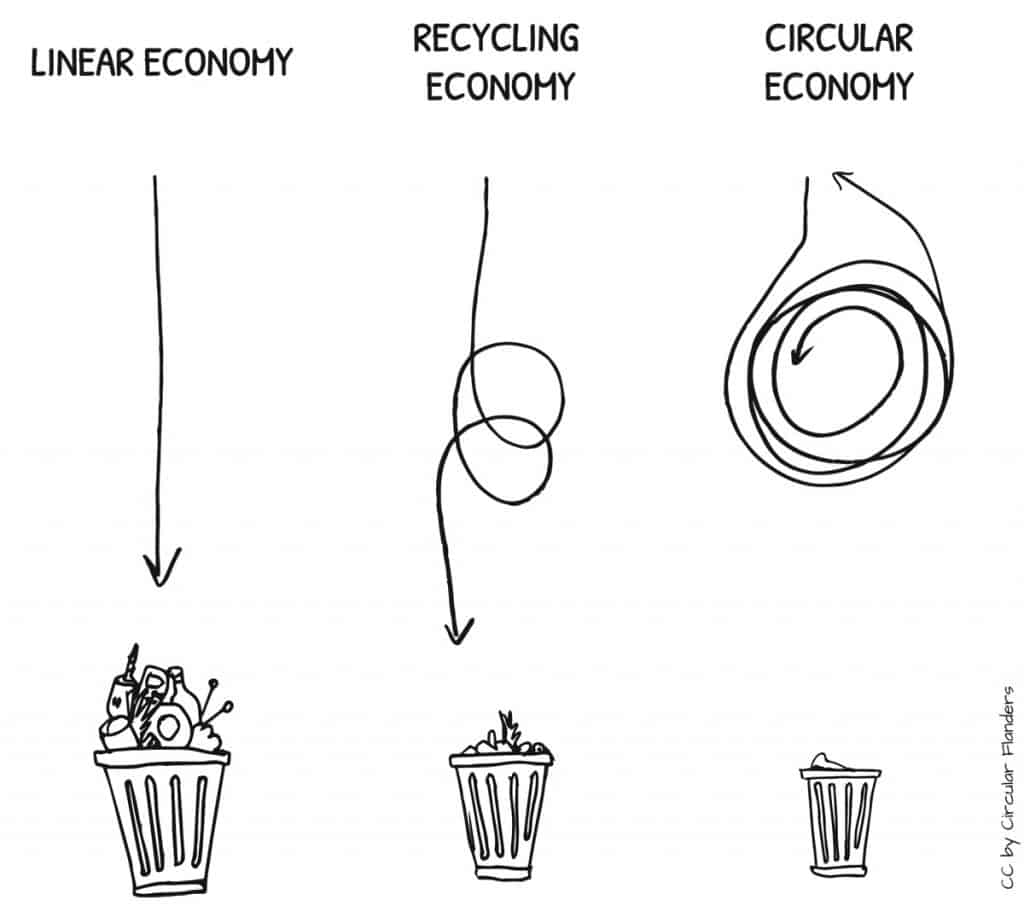 Circular Economy
A circular economy describes a sustainable economic model in which products are reused and recycled into other items, rather than sent to a landfill.
This circular model favors renewable energy over depleting Earth's natural resources.
Nature is a fantastic example of a circular ecosystem:
---
Linear Economy
Meanwhile, a linear economy is more of a buy-use-dispose model that leads directly to the landfill. Unfortunately this is the norm in most westernized countries.
We buy something. It breaks. We throw it away and buy a replacement. The viscious cycle continues.
The 'Hierarchy of Waste' was created to combat this wasteful 'linear' way of living.
Hierarchy of Waste
The Hierarchy of Waste was inspired by the European Commission's 'Waste Framework Directive' of 2008. This environmental tool was developed to aid in waste legislation and policy.
The directive ensures that…
Waste is managed without endangering human health and harming the environment, and in particular without risk to water, air, soil, plants or animals, without causing a nuisance through noise or odours, and without adversely affecting the countryside or places of special interest. 

European Commission Waste Framework Directive
Today's hierarchy of waste differs slightly across platforms but basically follows these principles of waste reduction. The preferred methods of eliminating waste are in order starting with (#1) refuse.
refuse
reduce
reuse
rehome
recycle
rot
See the table below for a quick description of each principle.
| Zero Waste Principle | Explanation |
| --- | --- |
| (1)Refuse | Be selective of items that come into your home. This will help keep unnecessary clutter at bay. |
| (2) Reduce | Reduce waste by only using what's needed, whether it's energy, water, or materials. |
| (3)Reuse | Change out disposables for reusable items. Repair, mend, and shop secondhand. |
| (4)Rehome | Don't need it anymore? Find someone who does! Seek out local facilities accepting donations, or re-sell items online. |
| (5)Recycle | Only recycle those items that can't be reused. Many items have short life spans can only be recycled a few times before materials become unusable. |
| (6)Rot | Compost food scraps and other natural materials back into reusable resources! |
The pyramid shaped infographic below shows the most favorable waste prevention methods at the bottom (refuse) to least favorable at the top (rot).
Remember the old school food guide pyramid? The same concept applies to a zero waste lifestyle.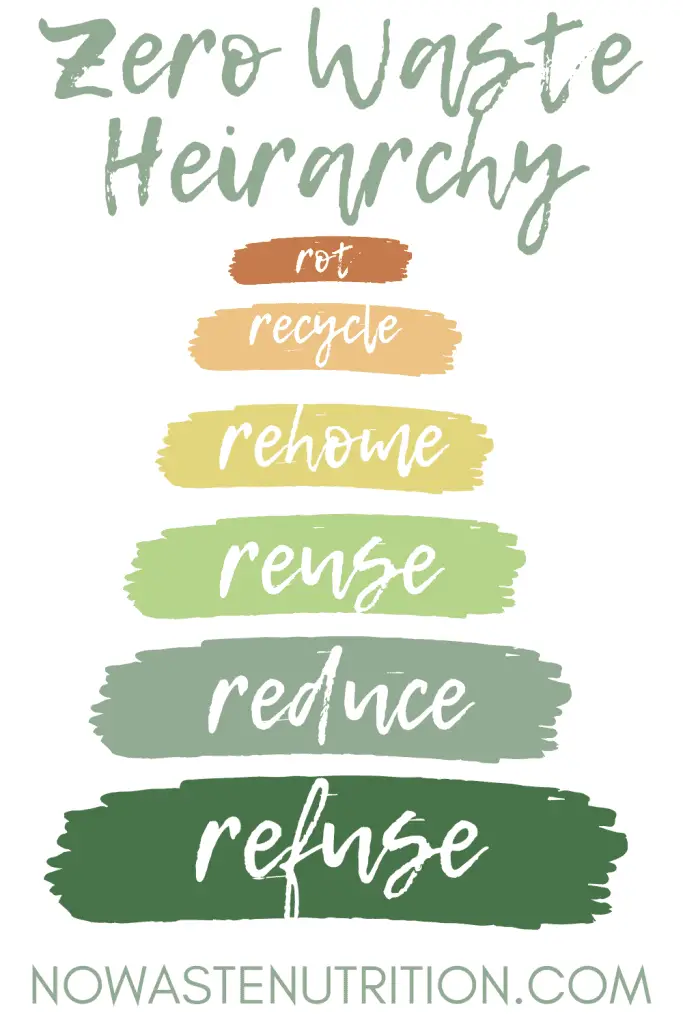 Origins of the Zero Waste Movement
The term 'zero waste' was originally used in the industrial manufacturing process to describe a closed loop system. This system ensures waste is minimized and materials are reused.
According to the Institute for Local Self Reliance, the modern zero waste movement dates back to the 1990's when local government and businesses across the world planned to better manage city waste systems.
---
Luckily the idea has trickled down to the individual level.
A zero waste lifestyle has been popularized by environmental activists over the last decade. Modern day zero wasters often famously pose with teeny-tiny Mason jars of trash they've collected over the years.
But this way of life seems nearly impossible for the majority of individuals. The average person likely doesn't have time, access, nor the financial means needed. We'll discuss more of these challenges further in the post.
Plus, sneaky marketing tactics make us believe we need the next best convenience product to improve our lives, which creates a problematic 'throw away' culture.
This 'throw away' culture causes landfills to fill up fast and it's wreaking havoc on the environment.
Next we'll discuss why landfill waste is a problem, and why a zero life lifestyle is key.
---
Why Landfill Waste is a Major Issue
A throw away culture of convenience results in 140 million tons of waste sent to landfills each year in the U.S.
Broken down, that means the average person throws away 4.5 pounds of trash Every. Single. Day. (Environmental Protection Agency.)
Think about the life cycle of a disposable plastic cup. Plastic cups are purchased for parties or on-the-go usage, utilized one time, and then thrown away.
Hopefully it gets recycled, however it probably won't. Only 8.4% of all plastic products created in 2017 were recycled, according to the Environmental Protection Agency (EPA).
This cycle of consumption has led to major environmental issues, not to mention a clutter issue in our homes. Do we really need another cheap non-stick pan that will likely need to be replaced in a few years? Probably not.
On the other hand, a well seasoned cast iron skillet is a much better option. They're affordable and last a lifetime if cared for properly.
Related: See what's in my minimalist kitchen!
---
What actually happens to landfill waste?
Trash just doesn't disappear. Instead, it gets buried deep in the earth and slowly decomposes over thousands of year.
Per the EPA, a hole is excavated in the ground and layered with two feet of compacted clay soil followed by a composite plastic layer, which prevents soil and ground water pollution from leachate.
Leachate = contaminated water, resulting from precipitation filtering through the landfill waste. It's like the opposite of a healthy compost tea.
Household trash is dumped in the landfill and covered with a layer of clay or dirt to deter pests and rodents, therefore limiting oxygen circulation. Rinse and repeat until the landfill is full.
The lack of oxygen causes trash to slowly decompose giving off methane gas. Methane is collected in a series of pipes, then traditionally vented or burned through a flare, therefore harming Earth's atmosphere.
Landfills are MASSIVE! According to Waste360, the average landfill is 600 acres. That's about 558 miles of trash, which is buried up to 500 feet in the ground. After that, trash is piled just about as high above ground too.
We're seeing the environmental devastation from an ever increasing release of methane gas. Global warming and climate change are both directly related to methane gas production.
---
Producing less waste is a daunting task, but many individuals have significantly reduced their carbon footprint little by little.
Pros and Cons of a Zero Waste Lifestyle
There are many benefits to low waste living outside of positive environmental impact, but it's also not an easy feat.
So what are the pros and cons of a zero waste lifestyle?
| PROS | CONS |
| --- | --- |
| helps environment | not convenient |
| saves money overall | can feel overwhelming |
| increases creativity | time consuming |
| increases self-sufficiency | takes extra discipline |
| promotes corporate responsibility | can be expensive |
| encourages better manufacturing and employee working conditions | limited access to zero waste stores |
---
Above all, the benefits of living zero waste FAR outweigh the negative aspects. Let's look a little closer at each benefit next.
protects the environment
can save money
increases creativity
helps us become more self-sufficient
directs our focus toward more responsible companies
places more value on manufacturing and employee conditions
Living Zero Waste Saves Money
Reducing waste leads to saving money in several different ways. Mending and repairing what we own and consciously buying less definitely keeps more money in the bank.
As a result, more money saved provides a way to afford higher quality products made to last longer.
Reducing Waste Leads to More Creativity
Wasting less leads to creative ways of upcycling and repurposing items that would normally get tossed. A few ideas follow.
Reuse food scraps in another meal or make homemade broth.
Come up with new ways to wear old clothes in a capsule wardrobe challenge like the 10×10 Challenge or Project 333.
Upcycling old bed sheets into reusable kitchen towels or napkins.
Repurpose glass food jars into storage containers or use them to regrow veggies from scraps.
A Zero Waste Lifestyle Promotes Self-Sufficiency
Zero wasters love DIY projects and making things from scratch. A zero waste lifestyle rejects the convenience culture in favor of self-sufficiency.
Learning a new skill or trade is empowering. In addition, crafting something by hand instead of buying it can feel rewarding.
See also: 62 Kitchen Staple Ingredients You Can Make at Home
Buying Less Allows More Focus on Responsible and Ethical Purchasing
Important factors are overlooked when we rush into purchases based on lower cost alone. Zero waste advocates practice careful consideration before buying, especially when it's on a more expensive item.
More expensive items tend to be higher quality for the most part. However, not always, as in the cast iron skillet example above.
Focusing on higher quality and more expensive products means we're more likely to consider product usage, ethical production standards, and employee working conditions and pay.
Is Going Zero Waste Realistic?
Honestly, probably not for the majority. At least not anytime soon. There are a few famous influencers that are close, but it's highly unlikely they produce literally no waste.
Those that are able to majorly reduce waste have the privilege of time, money, and resources. Although living zero waste does ultimately save money, some initial investments can be costly.
Similarly, other challenges to a zero waste lifestyle are discussed next.
Cons to Zero Waste Living
not convenient
can feel overwhelming
time consuming
takes discipline
can be expensive
plastic free and zero waste stores are limited
There are plenty of challenges to living waste free, but it's still a worthwhile goal! We may never reach a true zero waste lifestyle, however collective change moves us in the right direction.
Best Resources for Transitioning to a Lower Waste Lifestyle
Want to learn more about the zero waste movement and how you can adopt a zero waste lifestyle? There are tons of resources out there, but we've rounded up our favorites.
Check out the following list of world wide and diverse authors, bloggers, Instagrammers, and Youtube creators!
Books
The Story of Stuff (Annie Leonard)
The Family Guide to Waste-Free Living (Lauren and Oberon Carter)
Minimalist Home (Joshua Becker)
Give a Sh*t: Do Good. Live Better. Save the Planet. (Ashlee Piper)
Rooted in the Earth: Reclaiming the African American Environmental Heritage (Diane Glave)
Blogs
Instagramers
YouTubers
Easy Swaps for a Zero Waste Lifestyle
Ready to start your own zero waste journey? Or maybe you're ready to take the next step and reduce waste even further.
Try a few of these budget friendly zero waste swaps!
---
Kitchen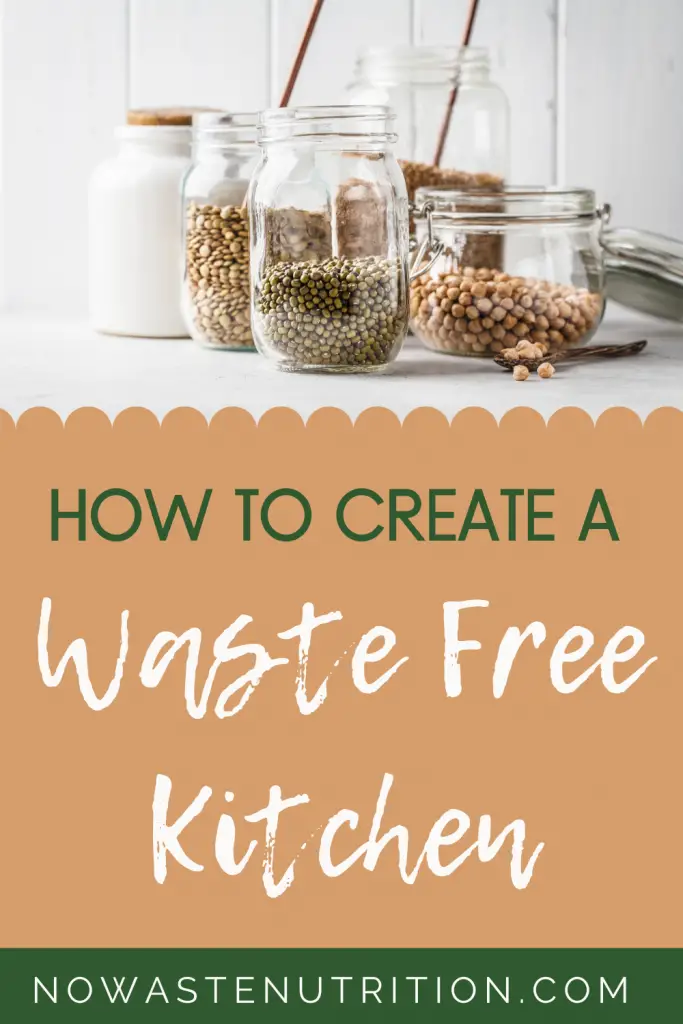 Opt for naked produce.
BYO containers for the bulk aisle and deli counter.
Refill beer/wine locally in a growler.
Reuse glass food jars.
Create a zero waste meal plan.
Start a compost pile.
Upcycle old sheets into reusable napkins.
---
Bathroom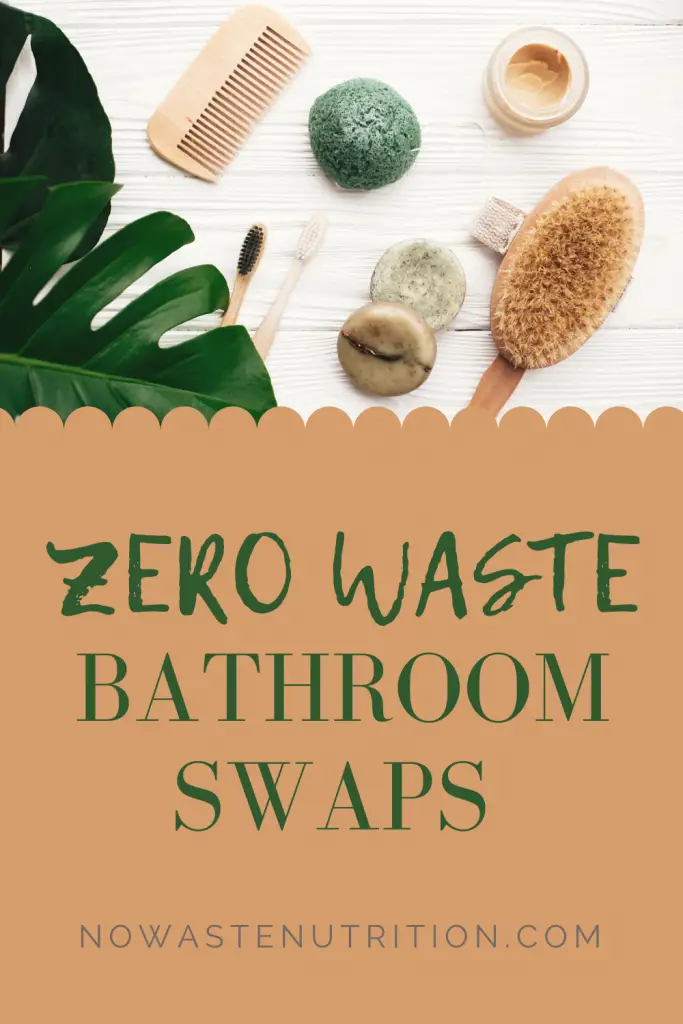 Unravel old silk fabric for floss.
Use a compostable toothbrush.
Invest in a bidet.
Use a menstrual cup.
Buy a reusable razor.
Opt for bar soaps and shampoos or make your own!
---
Wardrobe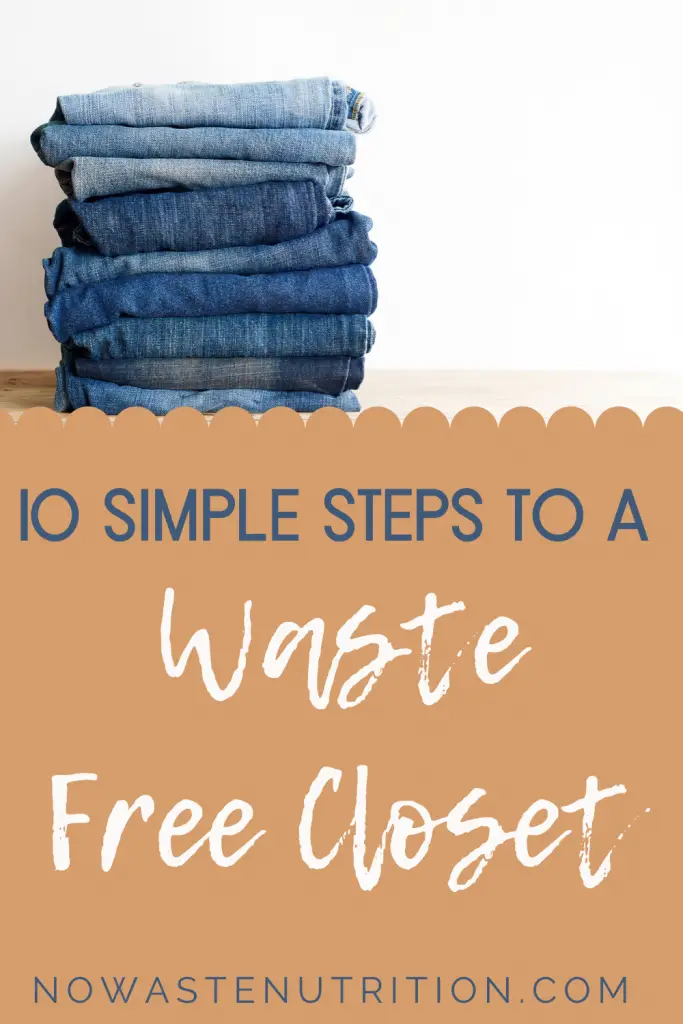 Implement a shopping ban!
Shop secondhand.
Avoid synthetic fibers.
Mend rips and tears.
Visit a cobbler for shoe repair.
Create a capsule wardrobe.
Upcycle clothing into cleaning cloths.
Donate worn clothing and shoes to a recycling centers.
Compost natural fibers.
Try a clothing rental service.
---
Laundry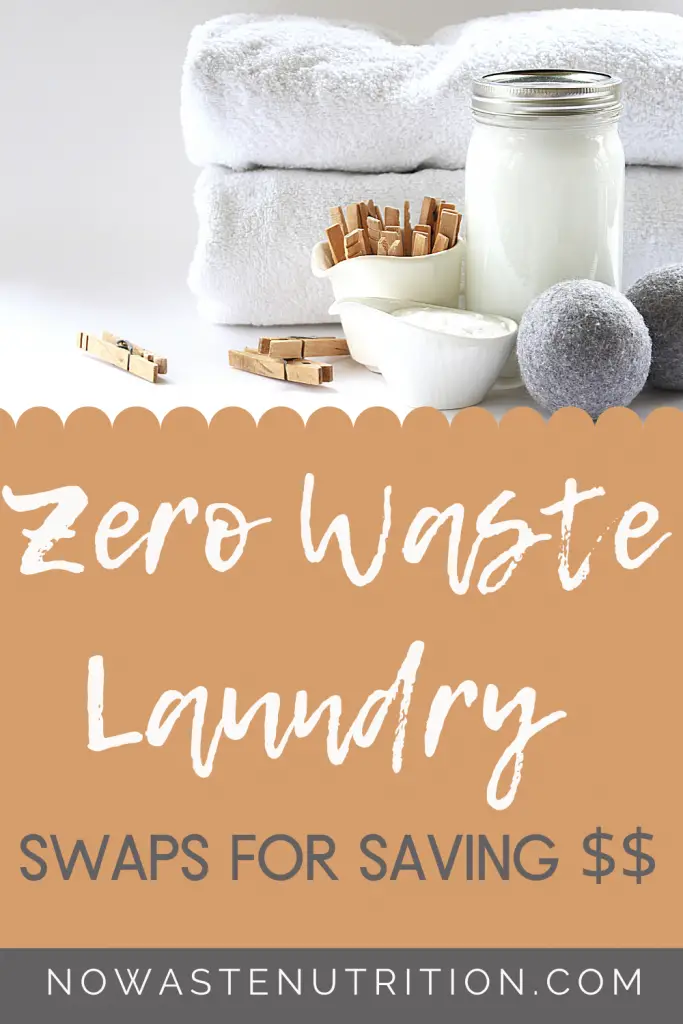 Wash clothes less frequently.
Remove stains naturally.
Wash in cool water vs hot.
Use refillable detergent.
Make your own detergent.
Line dry or hang clothing to dry outside.
Use wool dryer balls.
---
Travel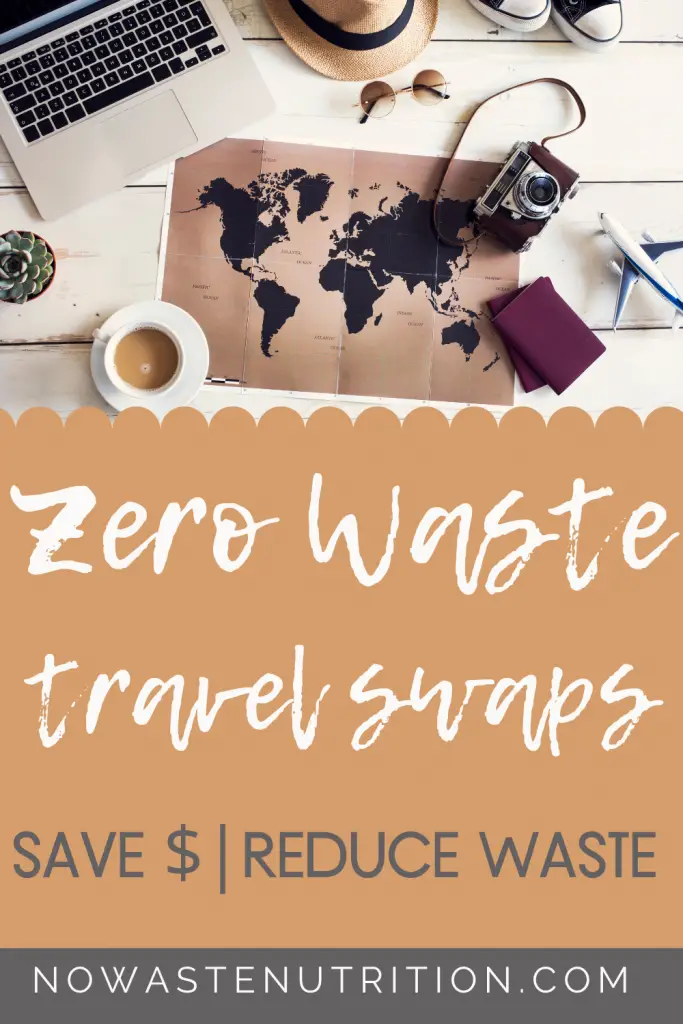 Plan a fun staycation.
Purchase carbon offsets if flying.
Drive when possible or fly direct to reduce mileage.
Take public transportation.
BYOB for coffee and water refills.
Pack zero waste snacks.
Limit luggage to one bag or backpack (lower flight weight = less fuel needed).
Dine locally to reduce food miles.
---
Final Thoughts on a Zero Waste Lifestyle
A completely waste free life is out of reach for most of us, however becoming more mindful of our consumption habits is still worthwhile. Creating less trash benefits the Earth, those producing our goods, our health, and similarly our bank accounts.
Shifting from a consumption mindset to one of more self sufficiency is a hard adjustment to make, and it slowly happens over time.
Luckily more and more communities are taking initiative to reduce waste. What steps have you taken in your journey to zero waste?
---