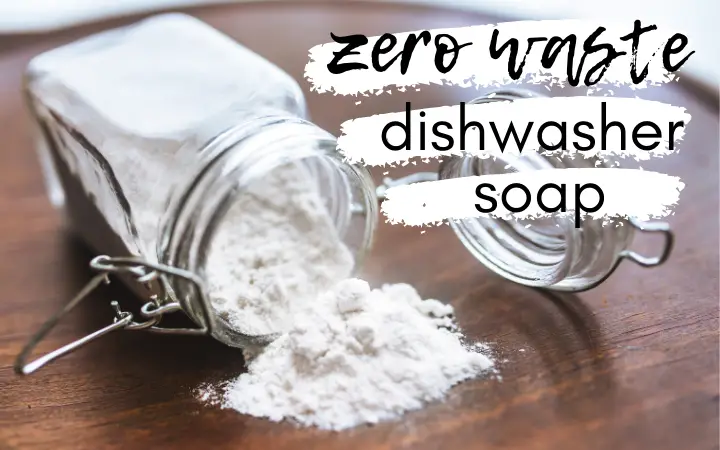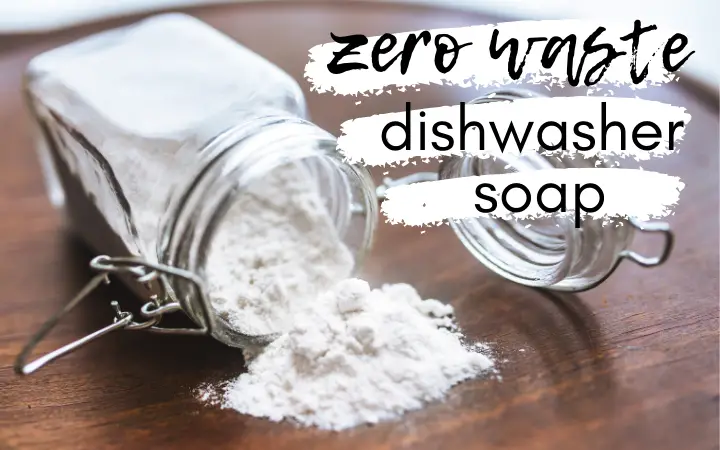 Zero waste dishwasher soap is easy to make and budget friendly. Plus, it's non-toxic, and plastic free!
I started making DIY dishwasher soap during a plastic free challenge several years ago. The homemade version requires only four ingredients, which can all be used for other cleaning recipes and projects around the home.
It works just as well (if not better) than name brand versions, and without the extra cost or harmful ingredients.
Why stop using conventional dish soaps?
Traditional (and even some 'natural') dish detergents contain all kinds of questionable ingredients, like surfactants for example. Surfactants help reduce surface tension of water, which makes dirt and grease removal easier.
But are they completely safe?
Warning: The Environmental Working Group (EWG) gives surfactants a 'D' rating. They've been shown to cause skin irritation, reproductive issues, and are harmful to aquatic life.
Additionally, I'm always trying to reduce single use plastic wherever possible. Yes, plastic is recyclable. Unfortunately, it can only be down cycled a limited number of times.
Unlike glass, plastic eventually becomes too structurally weak to reuse, and it's ultimately sent to a landfill.
Lastly, I love saving money. Homemade cleaning products are usually way cheaper than buying most 'green' versions. This recipe makes enough zero waste dish detergent for 58 loads at $0.17 cents each!
Related: All About the Zero Waste Lifestyle + a 30 Day Challenge to Help You Realistically Create Less Trash
---
Don't have time to make your own? See if there's a package free refill shop, co-op, or bulk store near you. If not, there are several Earth friendly dishwasher tablets you can buy as well, which I cover later in the post.
This post will discuss both DIY and retail options for zero waste dishwasher soap, along with price, packaging, and ingredient comparisons.
Don't have a dishwasher? I've included three ways to make plastic free dishwashing soap as well! One version uses a zero waste dish soap bar! Skip ahead to the end of the post for more info.
---
Ingredients for Zero Waste Dishwasher Soap
This zero waste dishwasher soap recipe is free of random chemicals, potential toxins, and palm oil.
It's requires just four natural ingredients. Most of them can be found in the bulk section of the grocery store or a local co-op.
Otherwise, they're available in sustainable or compostable packaging online and in most regular grocery stores.
Ingredients needed for zero waste dishwasher soap:
I'll explain the purpose of each ingredient below.
Washing soda's technical name is sodium carbonate. It may also be called:
soda ash
disodium carbonate
Carbonic acid disodium salt
CNa2O3
Washing soda is an alkaline base used in natural and DIY cleaning products. In addition, it's an ingredient found in most 'green' cleaners as well.
It's used to:
remove laundry stains like blood, coffee, tea, and grease
remove bathroom soap scum
clean patio furniture outdoor and outdoor deck buildup
remove grease buildup from pots and pans, and food stains on plastic and ceramic tableware
Want another reason to keep washing soda around? It breaks up the mineral deposits in hard water that can leave a white, chalky residue on dishes. That's exactly why this zero waste dishwasher soap recipe works so well!
Washing soda can also be made from baking soda. Simply heat baking soda in the oven for an hour. Heat releases carbon and steam. Ta-da! Then you have washing soda. Read here for full instructions.
It's so much more than a leavening agent for baked goods. Baking soda has countless practical uses around the home. Food odor elimination and stain removal is the primary function here.
Baking soda also whitens teeth, unclogs drains, and is a potent cleaner! It even makes a great dry shampoo!
Baking soda (aka sodium bicarbonate NaHCO3) is structurally similar to washing soda, but there are some key differences to be aware of as well.
| Baking Soda | Washing Soda |
| --- | --- |
| removes grease and stains + neutralizes odor | removes grease and stains |
| mildly alkaline (pH 8) | more alkaline (pH 11) |
| balances PH level of water | balances PH level of water |
| smaller granules | larger granules |
| white | yellowish |
| mildly abrasive | more abrasive |
| will not damage surfaces | may damage surfaces/fabrics if used in excess |
| can be eaten | should NOT be eaten |
Citric acid is found naturally in citrus fruits, but it can also be manufactured from a special kind of mold. Naturally occurring citric acid gives citrus fruits the sour taste.
The manufactured version has several uses:
flavoring and preserving agent in processed food and drink
stabilizes and preserves medications
disinfects against viruses and bacteria
removes soap scum, hard water stains, lime, and rust
Food grade citric acid can be found in the bulk section of some stores, or online. Otherwise it's probably near the canning supplies in regular grocery stores.
Salt
Salt is a surprisingly efficient, natural cleaning agent, which is why it's included in this zero waste dishwasher detergent recipe. It's typically used to remove stains and caked on food particles from surfaces.
It's also used to absorb liquids and odors in hard to reach places. Like food stains in a cutting board crevice or in a sweaty pair of sneakers.
The type of salt used in this recipe doesn't really matter. I've used table salt and pink Himalayan sea salt with the same results. Whatever salt you have on hand will work fine.
---
Now put them together!
Place all the ingredients in jar and shake until well mixed. See below for proper storage notes. You do not want to store this in a damp or humid area.
Use approximately 1 Tablespoon of dishwasher soap for a normal dish load.
Get the Recipe for Zero Waste Dishwasher Soap
Print
Zero Waste Dishwasher Soap Recipe
Tired of expensive sustainable dishwashing tablets that don't really work? Make it yourself with this budget friendly, all natural Zero Waste dishwasher soap recipe instead. Just 4 ingredients!
Author:
Prep Time:

5

Total Time:

5 minutes

Yield:

58

loads

1

x
Category:

DIY cleaners
Instructions
Combine all ingredients in a quart size glass jar and shake until well combined. 
Use 1 Tablespoon of detergent per normal load. Adjust as necessary for larger or smaller appliances.
Store in a cool, dry area away from any moisture.***
Notes
** Any type of salt will work well. I've used table salt and pink Himalayan sea salt. Feel free to use whatever you have on hand!
*** Storing DIY dishwasher powder correctly is super important. Improper storage in a humid or damp area  could result in a hard, caked together mass due to how moisture interacts with citric acid. Keep it dry by adding a reusable tea bag of rice in the jar, or reuse a silica gel pack inside the container. 
*not to be consumed*
Nutrition
Serving Size:

0

Calories:

0

Sugar:

0

Sodium:

0

Fat:

0

Saturated Fat:

0

Unsaturated Fat:

0

Trans Fat:

0

Carbohydrates:

0

Fiber:

0

Protein:

0

Cholesterol:

0
Keywords: zero waste dishwasher soap
Zero Waste Dishwasher Soap FAQ's
Make the most of your DIY dishwasher detergent using the tips and suggestions below. Your sparkly clean dishware will thank you!
How to Store Zero Waste Dishwasher Detergent
Proper storage is key! Citric acid is prone to cake up and cause big clumps of rock hard detergent.
Citric acid absorbs moisture from the air, resulting in a clumpy mess. Don't store zero waste dishwasher detergent under the sink, in the bathroom, or in any other damp areas. Store in a dry pantry for best results.
Ensure dishwashing detergent remains powdery and clump-free with these tips.
Add dry rice to a breathable cloth or reusable tea bag and place in the detergent jar. Some allow the rice to mix in with the detergent. It supposedly doesn't harm the dishwasher, but I'd rather not chance it.
Place a silica gel pack in the jar to absorb moisture. (Save these when you buy jerky, a new bag, or a new pair of shoes.)
Spread the detergent mix out in a large bowl or on a plate and let it sit for a few days to release excess moisture. Stir it occasionally to remove clumps, and then transfer to an airtight container.
How Much Dishwasher Soap to Use for One Load of Dishes?
Use one Tablespoon of dishwasher detergent for regular sized loads. Adjust amount for smaller or larger dishwashers and loads.
Can DIY Dishwasher Detergent Prevent Streaks on Dishes?
I've never had an issue with streaky dishes or filmy glasses since switching to homemade dish detergent. On the other hand, most store bought 'natural' detergents always left streaks and white residue.
Both washing soda and citric acid work to eliminate this annoying build up.
Does Homemade Dishwasher Soap Work with Hard water?
If your home has hard water, then you'll love this DIY dishwasher soap. Washing soda breaks up the minerals often found in hard water, therefore leaving only sparkly clean dishes.
Is Borax a Safe Alternative for Zero Waste Dishwashing Detergent?
Many DIY cleaning agents contain Borax, but we don't recommend it EVER. Borax is considered a 'natural' product because it doesn't contain phosphates or chlorine.
Borax can be cause harm if ingested or inhaled, despite the 'natural' claims. Additionally, it irritates skin and poses an issue if it gets in your eyes.
Some studies and reports link Borax with the following issues:
hormone disruption
respiratory problems
toxicity
death if ingested in excess
nausea
vomiting
rash
Canada and the European Union (EU) have banned Borax use in some cosmetic and health products. They also require a special warning label for other products that may contain Borax, and recommend limiting exposure as much as possible.
Washing soda is the the best alternative for Borax in a DIY cleaner recipe.
Best Zero Waste Dishwasher Soap Brands to Buy
Don't have the time to go searching for ingredients, but still want a lower waste and more eco-friendly dishwasher detergent alternative? First, check your local area for a zero waste shop.
More and more plastic free and refill stores are popping up across the world. Simply bring an empty reusable container (tare the weight before adding any product), fill it with whatever you need, and then pay by weight.
If you don't have access to a refill store, try one of these zero waste dishwasher detergent options below.
These top four popular brands are available online and in some health stores. They aren't perfect, but are better than most other conventional brands I've seen.
Cleancult was founded with zero waste and carbon neutral initiatives top of mind. Their cleaning products are plant based, with a heavy focus on coconut oil.
Why coconuts? They possess antiviral, antifungal, and antibacterial properties. Who knew cleaning and coconuts go hand in hand.
See more details on Cleancult dishwasher detergent tablets below.
Cost: 0.47 cents per load
Packaging: Tablets are shipped in a completely plastic free, paper mailer. Simply compost it after you transfer tablets to a storage container.
Shipping: Cleancult partners with carbonfund.org  to offset their carbon emissions via planting trees.
---
Dropps is another zero waste dishwasher soap option that offers plastic free packaging and carbon neutral shipping.
Their website says they partner with several organizations that work to prevent carbon and other emissions from entering the atmosphere.
Specific organizations aren't mentioned, but projects could be forestry conservation or carbon technology initiatives. Both help capture landfill gas before it's released into the atmosphere.
Other details follow:
Cost: starts at 0.19 cents per load. The subscribe and save option decreases costs by a few cents. Additionally, a bulk option provides 804 loads at 0.16 cents each. Super fans stock up!
Packaging: Each regular shipment is packed in a plastic free, compostable cardboard package. The bulk option is shipped with plastic and tape to avoid damage, however Dropps states they are looking for a better shipping alternative.
Shipping: 100% carbon neutral
Non-toxic ingredients: no artificial colors, dyes, or fragrance.
---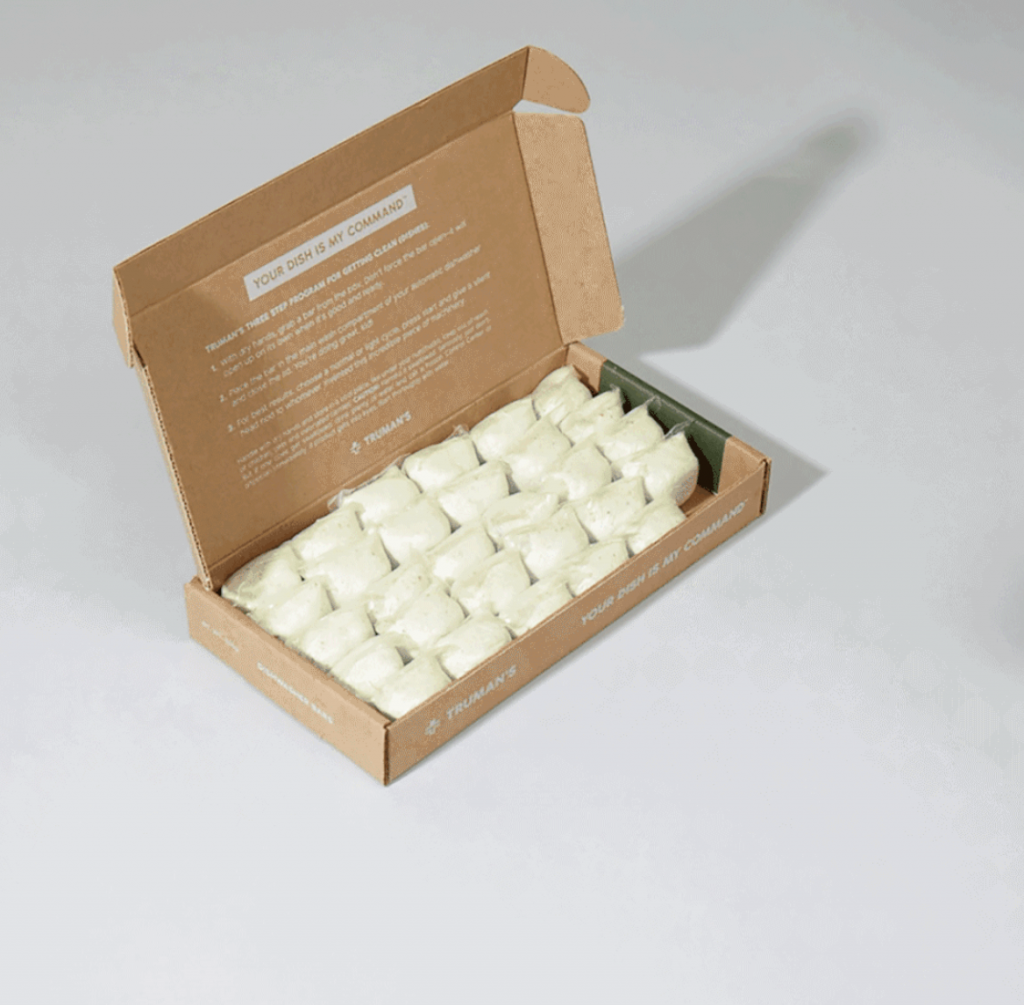 Truman's is a cheeky, eco-friendly company that speaks my language. They provide zero waste household products with a minimalist aesthetic.
Their mission statement includes …"Cleaning puns and 'dirty' jokes delivered free of charge." Sounds like a fun company!
Like Dropp's, they offer a subscription service for loyal customers, which helps bring costs down.
The website doesn't mention anything about offsetting their carbon footprint. It does mention other waste free initiatives. These include special self-containing shipping boxes, directly printing instructions on the box, and remote working opportunities to keep employees off the road.
Cost: 0.48 cents per load
Packaging: Zero waste dishwasher soap is shipped in plastic free, compostable cardboard.
Shipping: There is no mention of carbon off-sets or reducing carbon emissions.
Non-toxic ingredients
Cruelty Free
Vegan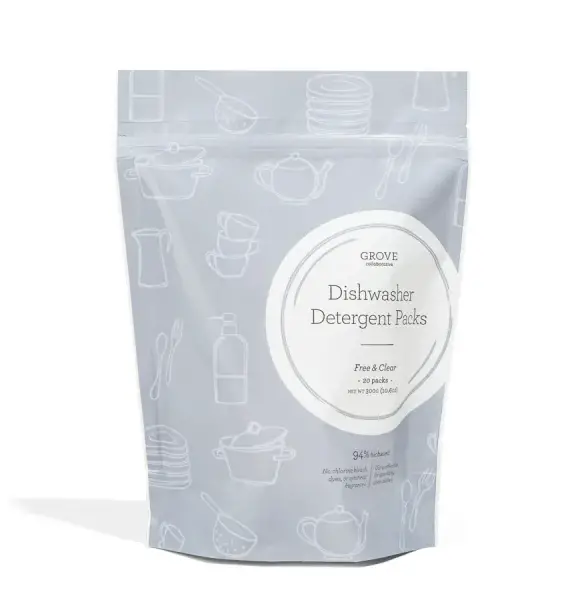 Grove Collaborative is an online one-stop-shop that carries all kinds of home products– from personal care products, to diapers, to vitamins, to pet grooming needs.
They focus on healthier home essentials, but aren't necessarily all zero-waste focused just yet. Recent Instagram posts state the company is plastic neutral, with plans to go completely plastic free in 2025. Woot!
Plus, shipping multiple household products together is typically better than shipping one product from several different sources. Bonus– Grove has carbon neutral shipping!
Grove carries dishwasher pods, but they're 'low waste' rather than 'zero waste.' I've included them here as an alternative that could save energy and carbon emissions.
Cost: 0.30 cents per load.
Packaging: The product info section claims 'responsible packaging' but it doesn't specify anything special about the package. It looks to be plastic, but that's not confirmed.
Shipping: Grove supports reforestation efforts with every Seedling Paper purchase, and offers carbon neutral shipping. The website makes no other mention of where or what these carbon off-sets benefit.
Non-toxic ingredients
Cruelty-free: This product is Leaping Bunny Certified. That's an internationally recognized seal of approval that ensures products are not tested on animals.
---
Zero Waste Dish Soap (If you don't have a dishwasher)
Obviously not everyone owns a dishwasher. Some may prefer to hand wash dishes. Dishwashers break down and who knows how long a repair person may need to fix it.
There are several easy solutions for making zero waste dish soap at home as well!
Use a zero waste dish soap bar. This one from No Tox Life comes highly recommended.
Dilute castile soap in water at a 1:10 ratio (one part castile soap to 10 parts water). Castile soap is super concentrated, so it doesn't take much.
Make homemade dish soap. Melt shredded bar soap, washing soda, and water together over low heat. This recipe from Zero Waste Chef is super helpful.
---
Have you ever made your own cleaning products?
Try these DIY recipes as well:
Zero Waste Orange Peel Cleaner
Baking Soda Dry Shampoo
Make Chicken Stock from Scratch
---
This post may contain affiliate links. Read my full privacy policy.