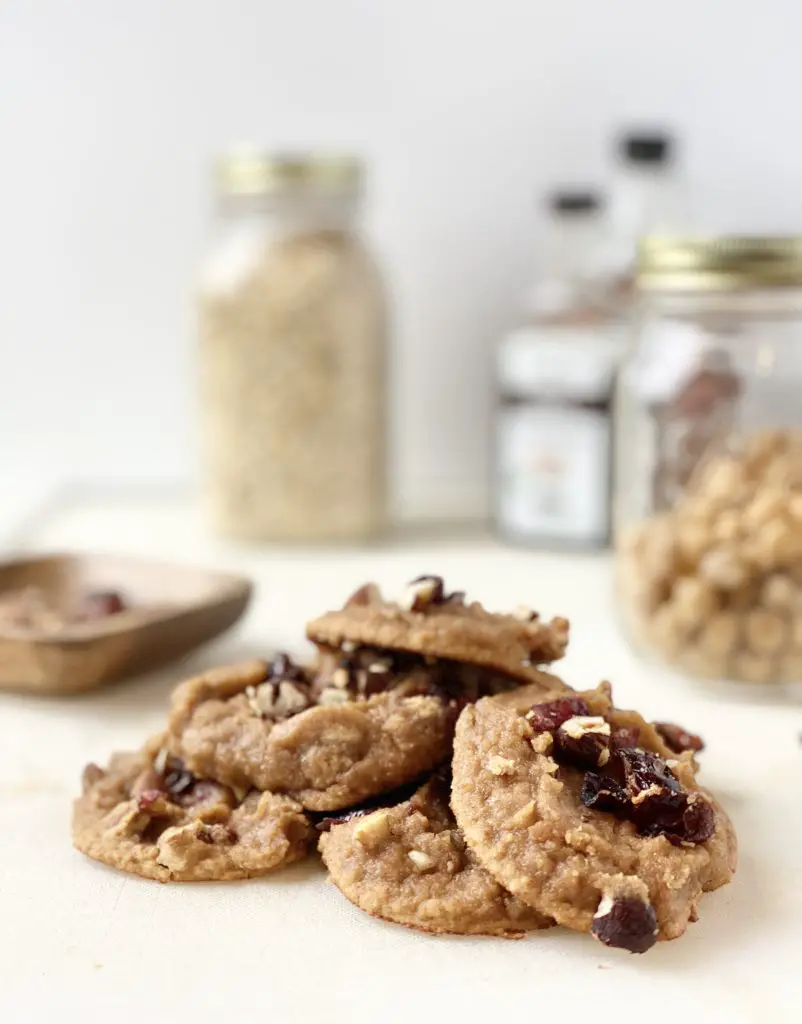 My zero waste chickpea cookies were born out of a pantry challenge at home. In an effort to reduce food waste (and save money), I've been mixing and matching ingredients to use up everything.
These are so so easy, taste really good, and are completely customizable too! They're totally plant based and vegan as well.
And no, they don't taste like hummus. Applesauce, cinnamon, and vanilla extract provide a perfect flavor boost, but there's so many other combos to try, depending on your preference.
---
Chickpea cookies are actually part of my first ever fall and winter 5×5 meal plan! Five seasonal ingredients used to create at least five meal and snacks using pantry staples.
I started meal planning and cooking this way because I was tired of constantly searching the internet for recipe ideas. Throwing together meals featuring similar ingredients is so much easier for me.
For someone that's never really enjoyed cooking, it's been a game changer!
The five ingredients for this easy meal plan are chickpeas, apples, kale, Italian sausage, and tortillas. Read all about the details and check out all the customizable recipes!
How to Bake with Chickpeas
First of all, chickpea flour is a shortcut that can easily be used. I used actual chickpeas because that's what I had on hand.
Chickpea Flour
Chickpea flour is gluten free, which means it's heavier and denser than all purpose flour. Bread won't rise if too much chickpea flour is used.
The rule of thumb is to substitute up to half the amount of all-purpose flour in a recipe with chickpea flour. That's mainly for quick bread and yeast bread recipes.
It doesn't matter too much with chickpea cookies or pancakes. Full on chickpeas or chickpea flour will be just fine.
Whole chickpeas
Baking with whole chickpeas is a bit more labor intensive, but totally worth the effort. It actually only takes a few extra minutes.
Zero Waste pro tip: Buy dried chickpeas in bulk to reduce waste and save money at the same time.
A can of chickpeas equals about 1.5 cups. If you were to buy 1.5 cups of dried chickpeas and cook them yourself, you'd have triple the amount– 4.5 cups. Cooked chickpeas can easily be stored in the freezer, so you don't have to use them all at once.
Equipment needed: high speed food processor and an oven
First, drain and rinse the chickpeas if they're from a can. If using dried chickpeas from your grocer's bulk section, rinse, cook, and drain ahead of time.
Actual chickpeas will need to be processed down into a dough like mixture. I use a NutriBullet, but most any food processor will work.
Combine the drained and dried chickpeas with applesauce and the other ingredients below (minus the trail mix) and process the mixture for just 1-2 minutes, until smooth. You may need wipe down the sides a time or two to ensure everything gets mixed.
After a few minutes, you'll have a smooth, somewhat sticky cookie dough texture. Don't worry, it hardens in the oven as it bakes.
Then fold in the trail mix blend. I added leftover mixed nuts and dried cranberries, but really any trail mix blend will work here.
Spoon onto an oiled or lined baked sheet, and bake at 350 degrees F for about 15 minutes.
Ingredient list for Chickpea Cookies
For this recipe, I used two of the five ingredients from the 5×5 meal plan, plus a few other items from the pantry:
Chickpeas
Apples (specifically my 30 minute Unsweetened Applesauce recipe, but store bought unsweetened applesauce will work too.)
maple syrup
old fashioned rolled oats
vanilla flavoring
cinnamon
baking powder
trail mix blend
Other Chickpea Cookie Flavor Combos to Try
We frequently buy chickpeas, so I'll be experimenting with other chickpea cookie flavors soon. A few flavor combos I've seen are:
peanut butter and chocolate chip
banana oatmeal
cranberry and orange spice
coconut and almond butter
How to Make this Recipe Zero Waste
Reducing food and food packaging waste is not easy or convenient. I did a plastic waste inventory a few years ago, and it made me rethink all food purchases. Food packaging is where a large majority of plastic waste occurs.
Don't feel bad if you can't make these chickpea cookies completely zero waste. Many grocery stores still don't offer a lot of bulk ingredients to choose from.
My home isn't completely zero waste, nor is my kitchen. I have a long way to go before my pantry looks like Bea's of the Zero Waste Home. But every little bit counts!
Here a few ideas to lower your kitchen waste:
Buy chickpeas, oats, and baking powder in bulk. Don't forget to tare the weight of your reusable container first!
Make your own unsweetened applesauce.
Buy nuts and dried fruit in bulk to make your own trail mix.
Use a silicone baking mat if using a liner.
Get the full recipe for zero waste chickpea cookies below.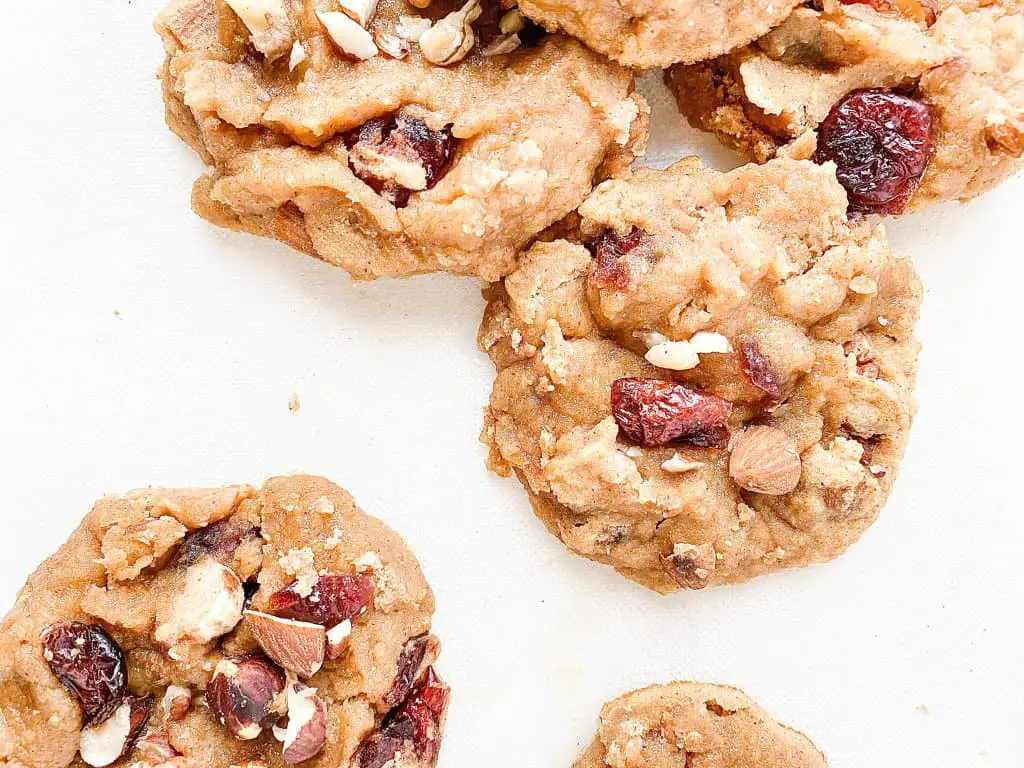 Print
Zero Waste Cinnamon Apple Chickpea Cookies
These zero waste chickpea cookies are plant based, and completely vegan! They feature spiced, unsweetened applesauce and maple syrup for a major flavor boost.
Author:
Prep Time:

5

Cook Time:

15

Total Time:

20 minutes

Yield:

8

–

10

medium sized cookies

1

x
Ingredients
1 can chickpeas, rinsed and drained (1.5 cups)
1/2 cup unsweetened applesauce (Try my 30 minute unsweetened applesauce recipe!)
1/4 cup maple syrup
1 teaspoon baking powder
1/4 cup old fashioned, rolled oats
1 Tablespoon cinnamon
1 Teaspoon vanilla extract
1/4 cup trail mix
Instructions
1. Preheat oven to 350F and oil baking sheet (or line with parchment paper or silicone baking sheet)
2. Add chickpeas and all other ingredients except trail mix into a high speed food processor.
3. Process until smooth up to 2 minutes, wiping down the blender sides if needed.
4. Fold in trail mix.
5. Spoon batter onto baking sheet. The mixture will be a bit sticky, but will harden up as it bakes.
6. Smooth out the cookies with the back of a spoon or an oiled finger.
7. Bake for 15-16 minutes or until lightly browned and set.
8. Let cool and store in a refrigerated container.
Notes
I used homemade unsweetened applesauce, but store bought will work as well.
If gluten free, ensure the oats come from a certified gluten free manufacturing facility. Oats are naturally gluten free, but are often contaminated during process. Bob's Red Mill is a good option.
The trail mix I used was simply leftover mixed nuts and dried cranberries I found in my pantry. Any trail mix combo or just plain nuts would be great too.