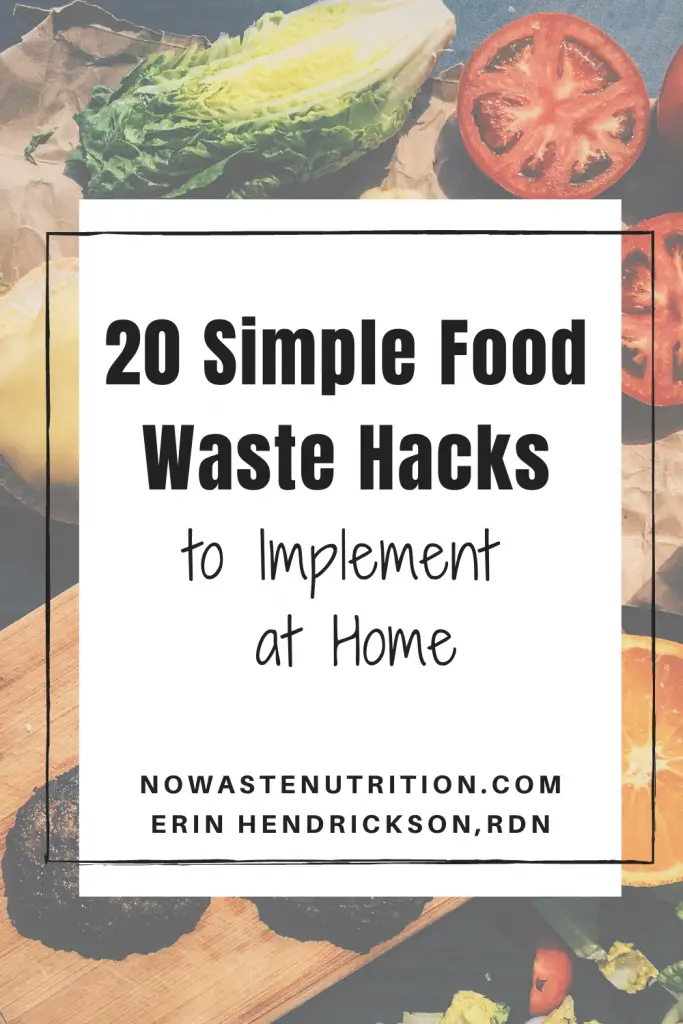 Food waste is sadly a growing problem for developed countries, but with the proper tools and food waste hacks, it's easy to make changes at home.
Food is wasted at all levels– from farm production and wholesale food distributors to grocery stores and restaurants. But by far, the highest amount of food waste happens at the consumer level.
According to the Commission of Environmental Cooperation (CEC), it's more than half (57%).
Before we dive into the actual food waste hacks, I wanted to share a few jaw dropping food stats and what the United States as a whole is doing to combat the issue.
Food Waste Stats
According to the FDA, 30-40% of the food supply is wasted.
Wasted food is the single largest category of material placed in municipal landfills.
World hunger (totaling near 1 billion people) could be fed on less than 25% of food waste from the US, UK, and Europe.
Food Waste Coalition
The U.S. Department of Agriculture (USDA), the U.S. Environmental Protection Agency (EPA), and the U.S. Food and Drug Administration (FDA) all entered into an agreement under the Winning on Reducing Food Waste Initiative.
Their initiative aims to increase education at both the industry and consumer level, with a goal of reducing overall food waste by 50% by the year 2030.
---
More importantly, what can WE do in the meantime? Every bit helps. I recommend doing a one week food waste audit at home. An audit can help you uncover:
which items don't get used as often
where spoilage occurs
how much gets thrown away
what items you don't enjoy cooking/eating
Once you've completed the audit and analyzed items that were tossed, then you can adjust your shopping and cooking habits to reduce waste.
---
Top 20 Food Waste Hacks to Make Your Food Go Further
1. Make a Meal Plan and Stick to it
You hear this over and over for a reason, because it's the most effective way to reduce waste! Realistically planning meals, cooking the food, and eating those meals is the number #1 best way to cut back on food waste at home.
But why is it so hard for many of us? Think of meal planning like building muscles.
You can't do it once and expect results. Muscles require regular training to show improvement over time. Be realistic and plan meals you know you'll actually look forward to eating.
My favorite way to meal plan is to choose 3-5 main ingredients and build meals around them. Check out my 5×5 meal plans for more inspo!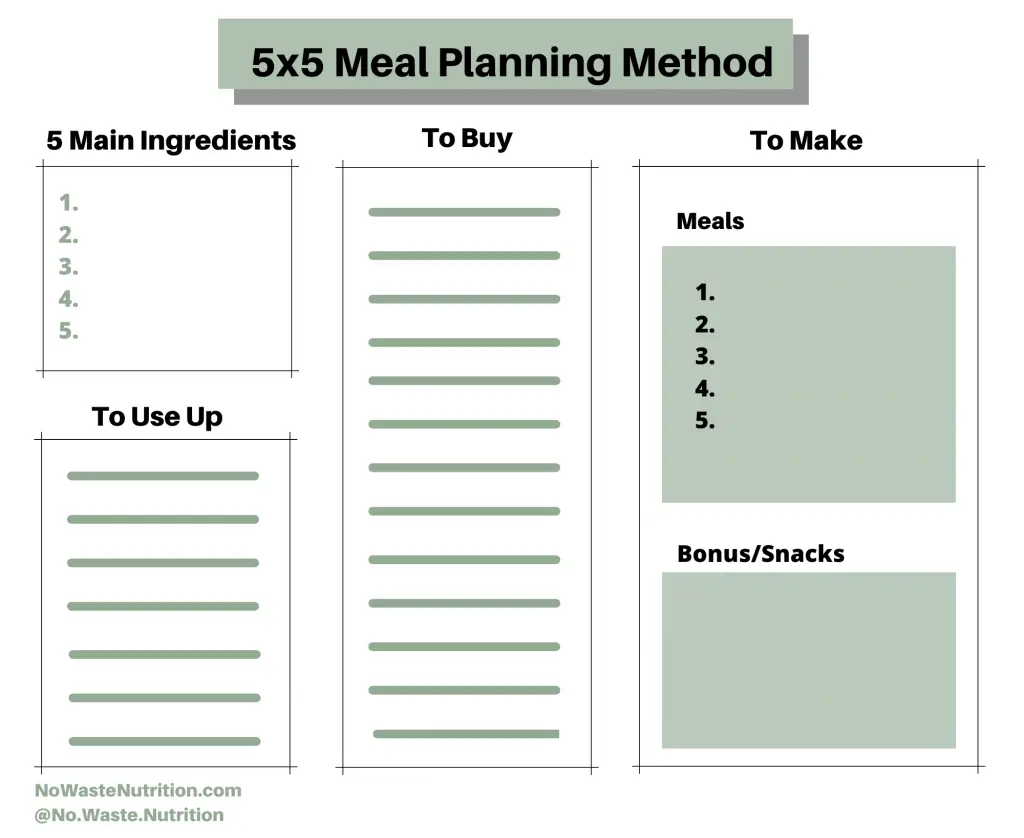 2. Do a Weekly Inventory
Take note of what items you have on hand, and plan meals accordingly. My first dietitian job was in hospital food service, and I was in charge of a full department weekly inventory.
Inventory that spoiled or sat unused was like money down the drain– a HUGE no-no for any commercial kitchen.
Keep a running list of pantry, refrigerator, and freezer inventory to help plan weekly meals.
3. Plan a Few Throw-Together Meals
This is one of my all time favorite food waste hacks! I keep a running list of throw together recipes on hand to help use up any last bits of food scraps.
Veggies, grains, beans, eggs and other proteins can all be mixed and matched to create throw-together meals like:
frittatas
soup
pantry salad
hash
stir fry
4. Shop with a List
….and don't impulse buy! Random items may be a good idea in the moment, but make sure they have a purpose.
If you can't think of three different ways to use an item not on the grocery list, leave it.
5. Store Foods Properly
Consumers toss more fresh produce that any other food item. Is it any surprise that only 1 in 10 Americans meet adequate fruit and veggie intakes?
Use this infographic for storage recommendations of the most common household foods.
I love this easy to read infographic from the American Heart Association: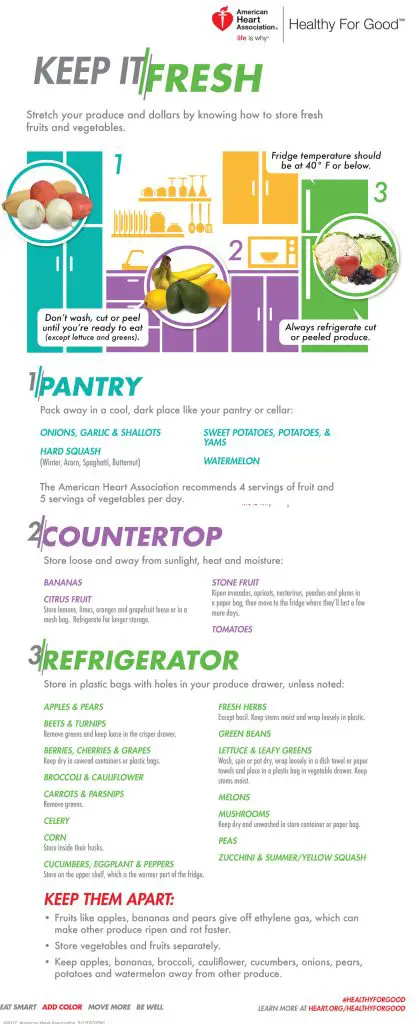 6. Wrap Greens in a Tea Towel
Greens deserve their own place on the list, since they can wilt very quickly. Wrap them in a damp tea towel and they can last for up to 10 days in the refrigerator.
Make sure they have ample room in the produce drawer for best results.
7. Know When to NOT Wash Produce
To be clear, all produce should be washed before consuming. There are a few instances where it's best to not wash produce until you're ready to eat it.
Berries– mainly blueberries, raspberries, strawberries, and blackberries– can easily spoil from excess water left after washing. Wait until you're ready to use them in a recipe or snack on them directly before rinsing.
8. Freeze Extras
Freezing leftovers or extra produce is an easy food waste hack. Chop up fruits and veggies, spread them out on a sheet pan, and place in the freezer for a few hours.
Once they've frozen, store them in an airtight container for easy use later.
9. Shred Cheese Blocks
I always buy blocks of cheese and shred it myself because quality cheese ends up being cheaper that way. Whenever I find a good sale, I stock up and freeze it.
Just shred the cheese as normal and place it in an airtight container. It can last for up to three months, and simply take it out as needed.
10. Repurpose a Meal
Not feeling leftovers from last night's dinner? Find a creative way to repurpose it before it spoils.
I love before and after shots of the same meal repurposed different ways, like the one from @WorkWeekLunch below.
11. Make Muddled Herb Ice Cubes
Get herb happy in the garden or at the market? Before they go bad, make herb infused ice cubes to enjoy in a beverage later.
Place herbs in an ice cube tray, muddle with a spoon to release flavor, and just add water.
12. Pickle Produce Scraps
Pickling fruits and vegetables that are on the verge of going bad creates a whole new flavor profile. Cucumbers, onions, cabbage, berries, and peppers are commonly pickled produce.
This guide from Epicurious has plenty of pickling combos to choose from.
13. Use Produce Scraps in Other Recipes
There are plenty of creative ways to use food scraps. Broccoli stems, carrot tops, kale stems that normally get tossed can be used in pesto, soups, frittatas, and stir frys.
Check out this creative recipe for broccoli stem salad!
14. Make your own broth
Homemade broth is much tastier than watered down, store bought versions. I save veggie and bone scraps in seperate air tight containers and make broth every few weeks to use in soup recipes and to cook rice and other grains.
You can make broth from nearly any vegetable imaginable! For example, save empty corn cobs for corn broth. Keep that fresh corn flavor going all through winter.
Check out my complete guide for Making Chicken Stock from Scratch
15. Do-It-Yourself Dog Treats
Every time I make bone broth, I make dog treats from the bone scraps. Simmering bones for hours releases the collagen, making them easy to break down in a high powered food processor.
I process them in my NutriBullet with a splash of water, and then add to ice cubes trays to freeze. My dog loves them!
16. Utilize Food Skins
Citrus peels make perfect cleaning agents when mixed with distilled white vinegar, and left to sit for a few weeks.
Used lemons and limes are great garbage disposal cleaners and fresheners.
You also simmer fruit skins and spices in water for a delightful homemade potpourri!
17. Re-use Sourdough Starter
If you bake a lot of fresh sourdough bread, you're probably highly aware of how much sourdough starter gets discarded. But you don't have to throw it away! Reuse it for other tasty eats. Here's over 60 recipes to help use up all that sourdough baking 'waste'!
The discarded sourdough can be repurposed into delicious crackers, biscuits, and pizza dough. I've been baking a gajillion crackers using my 5 ingredient recipe inspired by one on the King Arthur's Flour website.
18. Bake with Plant Based Milk Pulp
Same with plant based milk pulp. It's cheaper and tastier to make your own plant based milk at home, but there's so much pulp left over!
Freeze it in an airtight container, and make one of these recipes when you're ready to bake!
19. Compost Food Scraps
Composting leftovers is the eco-friendly way to discard food waste. In the proper environment, food breaks down into vitamin and nutrient rich material perfect for home gardening.
Check out these 16 ways to start composting at home to get started!
20. Give it Away
Life happens, and sometimes there's just no way to follow all the above food waste hacks. Unplanned travel, getting sick, and unexpected disasters can leave food to spoil.
If there's time, donate food (still in date) to a food pantry or a neighbor. Check out your local 'Buy Nothing' Facebook group to see if there are any takers or post it on Olio– a surplus food sharing app for neighbors and local businesses.
Final Take Aways
The bottom line is there are tons of food waste hacks to improve your carbon footprint at home. Don't get overwhelmed with trying to do all the things!
Pick a few realistic ones and go from there, then wasting less food will become easier and easier over time.