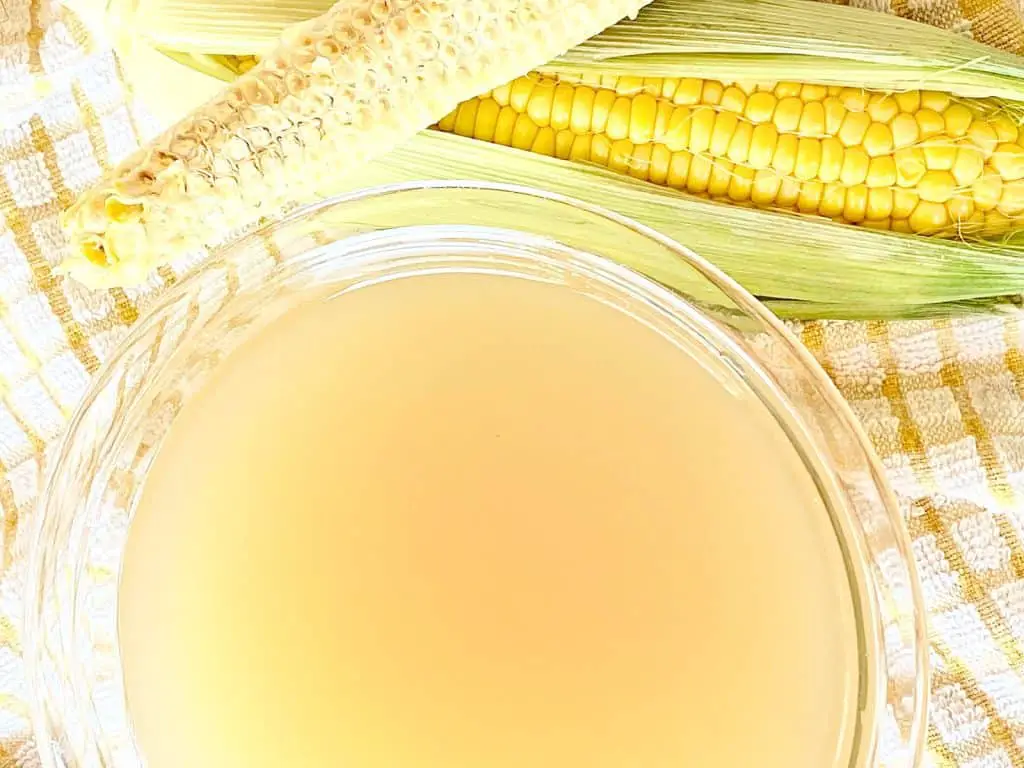 Making corn stock from spent corn cobs is a favorite way to utilize late summer crops, and an easy way to further reduce food waste! The sweet and creamy golden broth is perfect to use in winter soups and stews, and a whole lot of other ways too!
It's so delicious you may just cozy up and sip warm corn broth straight from a cup on a cold night.
What is Corn Stock?
It's possible to make broth from just about any vegetable scrap, including empty corn cobs! Simply simmer the scraps in water with a few herbs and seasonings for a couple of hours and bam! You have a perfectly tasty corn broth base.
Corn cob broth doesn't need many extra ingredients to develop flavor like chicken stock or veggie broth might.
The corn cob cores alone contain the same sweet flavor profile as the kernels. You can't directly eat the tough and mature cores, but they can create a melt in your mouth, delicious broth.
You can always add a few other veggie scraps to round out the stock as well. Onion peels, celery pieces, and carrots create extra flavor and tone down the sweetness a bit.
Why Make Corn Stock?
Corn broth from spent corn cobs is a no brainer. I love to find creative ways to use food scraps that normally get thrown away. It not only reduces food waste, but saves money as well!
Here are a few more reasons why corn stock is a brilliant idea:
Make food go further. Corn cob broth is another way to extract even more corn flavor and reduce food waste. You'll never toss those leftover corn cobs again.
Extend your food budget. Homemade vegetable broth is much more cost effective than the retail version. Besides, when have you seen corn stock in the grocery store? You can't buy this deliciousness.
Add a flavor punch to recipes. A subtly, sweet corn flavor will elevate savory rice, soups and risottos. Plus you can even use corn stock to make corn jelly.
Stock up for winter season. Fresh corn is practically impossible to find after October. This corn stock recipe is perfect to use throughout the winter for a hint of summer flavor to brighten things up a bit.
Corn Cob Stock Recipe
Print
Corn Stock
Bare corn cobs make a delicious corn stock that's perfect for risotto, chowder, soups and stews!
Author:
Prep Time:

5 minutes

Cook Time:

4 hours

Total Time:

at least 4 hours + 5 m

Yield:

6

–

8

cups stock

1

x
Ingredients
at least 5–6 empty corn cobs, but the more the merrier (kernels removed)
1.5 cups veggie scraps (onion peels or celery pieces work best)
1 teaspoon dried or fresh herbs (parsely, thyme, or rosemary are great options)
8–10 cups water (enough to cover corn cobs by about one inch)
Instructions
1. Remove corn husks, silks, and kernels from cobs. 
2. Place all ingredients  (bare corn cobs, herbs, veggie scraps, and water) in a crock pot.
3. Add enough water to cover ingredients by about 1 inch.*
4. Cover and simmer on high for four hours, or cook on low for 8 hours. (For stovetop cooking instructions, see notes).**
5. Let corn stock cool, then strain.
6. Transfer to glass Mason jars or baggies for storage.***
7. Store in the fridge for 5 days or in the freezer for up to 6 months. Leave 1/4 jar empty for liquid to expand as it freezes.
Notes
* Corn cobs will float to the surface. Stir them occasionally to help infuse flavor throughout the cooking process. 
**To cook corn stock on a stovetop: 
1. Add all ingredients to a large pot or Dutch oven and cover. 
2. Add 8-10 cups of water.
3. Heat to boil, then reduce heat to low and simmer for 3 hours. Continue with step #5. 
*** Leave about 1/4 of the container empty to allow for expansion as the liquid freezes. 
Nutrition
Serving Size:

2 cups

Calories:

12

Sugar:

1 g

Sodium:

20 mg

Fat:

<1 g

Carbohydrates:

2 g

Protein:

1 g
Corn Stock Nutrition
Nutritional content for corn broth is very similar to other vegetable broths. It may vary slightly depending on what veggies and seasonings are added in.
If you're concerned about calories, sugar, and starch, don't be! There are just a few grams each of carbs and sugar in a one cup serving.
Whole corn is a good source of fiber, vitamin C, B vitamins, magnesium and potassium. Naturally, corn stock contains a trace amount of these nutrients.
---
Ready to further reduce waste at home? Click on the image to download the 30 day zero waste challenge!
---
How to Make Corn Cob Broth (step by step guide)
You'll need at least five to six ears of corn to make stock, but the more the merrier. More corn cobs mean a richer, more concentrated flavor.
Ingredients Needed for Corn Stock
This may look a little different based on what you have available. Don't overdo it with extras. The corn is enough for a super flavorful, sweet broth.
Bare corn cobs: Aim for at least 6 or 7 cobs for a rich broth. Five is a bare minimum.
Veggie scraps: Onion and celery scraps compliment the corn flavor well. If you don't have veggie pieces laying around, one yellow onion will do the trick.
Dried or fresh herbs: Parsley, rosemary, or thyme are all great additions.
Water
Salt and pepper to taste
Step 1. Remove Husks and Silks
First remove husk and silk from corn cob if still in tact.
Save those for the compost bin. I dry them out and use them as 'brown' material. Then, wash corn on the cobs under warm, running water or with a vegetable wash.
Step 2. Remove Corn Kernels
Then, remove kernels from the cobs.
You have several options here. One is to remove kernels from the corn with a knife. Cook them or store for later use.
Or, prepare the whole corn cobs however you prefer and eat the kernels straight off the cob. Grilled corn on the cob is my absolute favorite! The smoky, grill flavor adds a little something to the sweet broth. It provides an extra delicious dimension!
Save the Cobs
Keep those empty cobs after the kernels have been removed.
I store mine in the freezer in an airtight container until there's enough to make broth.
Step 3. Prepare the Corn Stock
After collecting 6-10 cobs, you're ready to make broth!
Add corn cobs to a crockpot (or large pot if cooking on the stovetop). Cover with about 1 inch of water, or about 8 to 10 cups. The cobs may float to the surface, but just push them down and stir occasionally.
Feel free to add a variety of herbs, seasonings, and veggie pieces. Remember to keep corn the star of the recipe. You don't want to drown out that delicious flavor.
Step 4. Simmer
Next, simmer until it becomes a silky, creamy pale yellow broth.
Making corn stock on the stovetop: Heat stock to a light boil, then reduce heat, cover, and simmer for up to 3 hours on low.
For corn stock in a crockpot: Heat stock on low and cook for up to 8 hours, or 4 hours on high heat.
Step 5. Cool and Drain
After appropriate cook time, allow the corn cob broth to cool. Then strain with a sieve. Store in a glass jar (or jars) until ready to use. See below for more storage notes.
How to Store Corn Cob Stock
Keep corn cob broth in the refrigerator for up to a week, or in the freezer for three months.
I like to reuse glass food jars for soup and broth storage, because they're free and it's one less item to recycle! Thankfully we have plenty of freezer space, but that's not always the case.
If you have limited freezer space, it's probably best to store corn broth in a reusable freezer safe bag and lay them flat. After the bags have frozen, stack them side by side to help take up less space.
Budget-friendly pro tip: Recycle plastic Ziploc bags for smaller freezer space storage. I don't buy them anymore, but I'll occasionally end up with a few after a holiday or celebration with friends/family.
10 Creative Ways to Use Corn Stock
My latest use of corn stock was for a Mexican rice and beans recipe. The sweet flavor was a perfect compliment to jalapenos I added to the dish.
Here are some other ideas for utilizing corn cob broth!
Sip it alone. It's really that tasty!
Use in any recipe as you'd use veggie broth.
Make corn chowder and a sub a portion of heavy cream with corn stock.
Try a new corn soup recipe.
Cook a risotto with corn broth!
Use corn stock instead of water to cook grains, like rice, quinoa, or polenta.
Make corn jelly.
Use it as the broth base for a spicy gumbo recipe. The sweet undertones balance out the spice!
Freeze it in an ice cube tray to add a hint of sweetness to sauteed veggies.
Substitute corn stock for the broth for shrimp and grits recipes.
Discarding Empty Corn Cobs
What to do with the empty cobs after squeezing out every ounce of flavor for corn stock?? Whatever you choose, don't throw them away in the trash!
Take food waste efforts even further and dry them out to be used as charcoal for the grill. Maize cob charcoal is used regularly in Ghana and Kenya as a more sustainable means of cooking. They are free, easy to light and burn very hot with little ash!
Donate empty corn cobs for farmers with cattle or pigs to use in feeding. Chop them into smaller bits to prevent choking.
Discard the used corn cobs in your compost pile or curbside compost pickup. Many larger cities also offer several free compost drop off sites! Break them into smaller pieces for quicker decomposition.
---
Want more food waste recovery recipes and tips for reducing household waste? Join the No Waste Nutrition community!
Check out these recipes as well:
How to Make Chicken Stock from Scratch